2012•11•07 Tokyo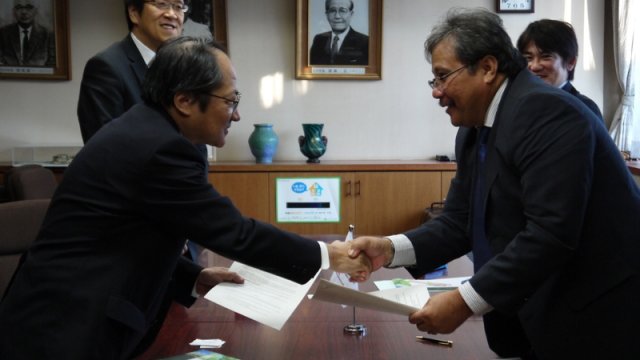 UNU-IIGH and the National Center of Neurology and Psychiatry, Japan (NCNP) signed an Agreement of Cooperation (AOC) on 7 November 2012 in Tokyo, Japan.
The AOC was signed by Dr. Mohamed Salleh Yasin, Director of UNU-IIGH and Dr. Teruhiko Higuchi, President of NCNP. The ceremony was attended by Dr. Atsuro Tsutsumi, Research Fellow of UNU-IIGH, and Dr. Yoshiharu Kim, President of National Information Center of Disaster Mental Health, NCNP.
As one of UNU-IIGH's mission is to improve the mental health of the general population through comprehensive and integrative research, this cooperation will give further boost to NCNP in increasing their programmes' effectiveness as well achieving faster attainment of their common objectives.
Both UNU-IIGH and NCNP share common interests in relation to mental health and psychosocial support (in/after emergency settings), global mental health and psychological well-being, human rights of persons with disability, capacity development in mental health and psychological well-being.
The framework of this AOC includes the development of common research, training and e-learning programmes, and its related tools and publications, organization of seminars, symposiums, workshops and other similar initiatives.