2018•07•12 Kuala Lumpur
The 9th World Urban Forum (WUF9) took place in Kuala Lumpur, Malaysia, from 7-13 February, 2018, at the Kuala Lumpur Convention Centre. As the first global forum on cities since Habitat III, WUF9 was an important forum for discussing implementation of the New Urban Agenda (NUA) and the roles that all sectors of society must play in this effort. These conversations culminated in the Kuala Lumpur Declaration on Cities 2030, and undoubtedly have catalysed many new collaborations and initiatives for sustainable urban development.
At WUF9, UNU-IIGH highlighted key issues of urban health and wellbeing critical to the NUA, the 2030 Agenda for Sustainable Development, and the Sustainable Development Goals (SDGs). Dr. Jose Siri led UNU-IIGH in co-organising three side-events on urban health and was an invited speaker at two further side-events led by the United Nations Development Programme and the General Assembly of Partners Research and Academic Partner Constituent Group. Dr. David Tan also spoke at a parallel event hosted by the University of Nottingham Malaysia, held in conjunction with WUF9.
In addition to these events, UNU-IIGH also had an exhibition booth, displaying print and digital media relating to health in cities. Eleven sets of talks on urban health and sustainability were held at the booth, featuring global experts from a variety of leading organizations in health, including WHO, ISUH, ICSU and others.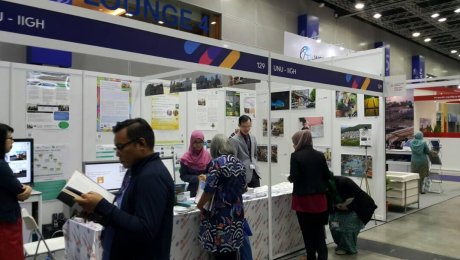 UNU-IIGH booth at the WUF9. Photo: UNU-IIGH. Creative Commons BY-NC 2.0
Two important documents were launched by UNU-IIGH together with Think City and Cardiff University's Sustainable Places Research Institute. The first is THRIVE Connect: Linkages in Everyday Life, a folio of photography and text which explores linkages between SDG 11 on Sustainable Cities and Communities and other SDGs—this is the third in the series of THRIVE books that started at the 2016 Urban Thinkers Campus in Kuching. The THRIVE series embraces art as a pathway to new visions of health and of the possibilities inherent in the urban environment, and promotes an ecosocial perspective on the origins of wellbeing.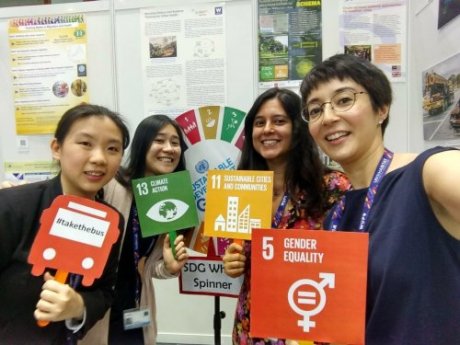 UNU-IIGH postdocs at the WUF9. Photo: UNU-IIGH. Creative Commons BY-NC 2.0
The second document is a compilation of case studies by UNU-IIGH's "Systems Thinking and Place-based Methods for Healthier Malaysian Cities" (or SCHEMA) project. The SCHEMA Case Studies use simple participatory modelling to consider complex issues related to urban health and wellbeing in Malaysia at various scales. They are intended to illustrate the value of systems- and place-based methods as valuable tools for exploration and communication, and to encourage researchers, practitioners, policymakers and other urban stakeholders to adopt such methods in examining their own intractable challenges in cities.