2020•06•05 Kuala Lumpur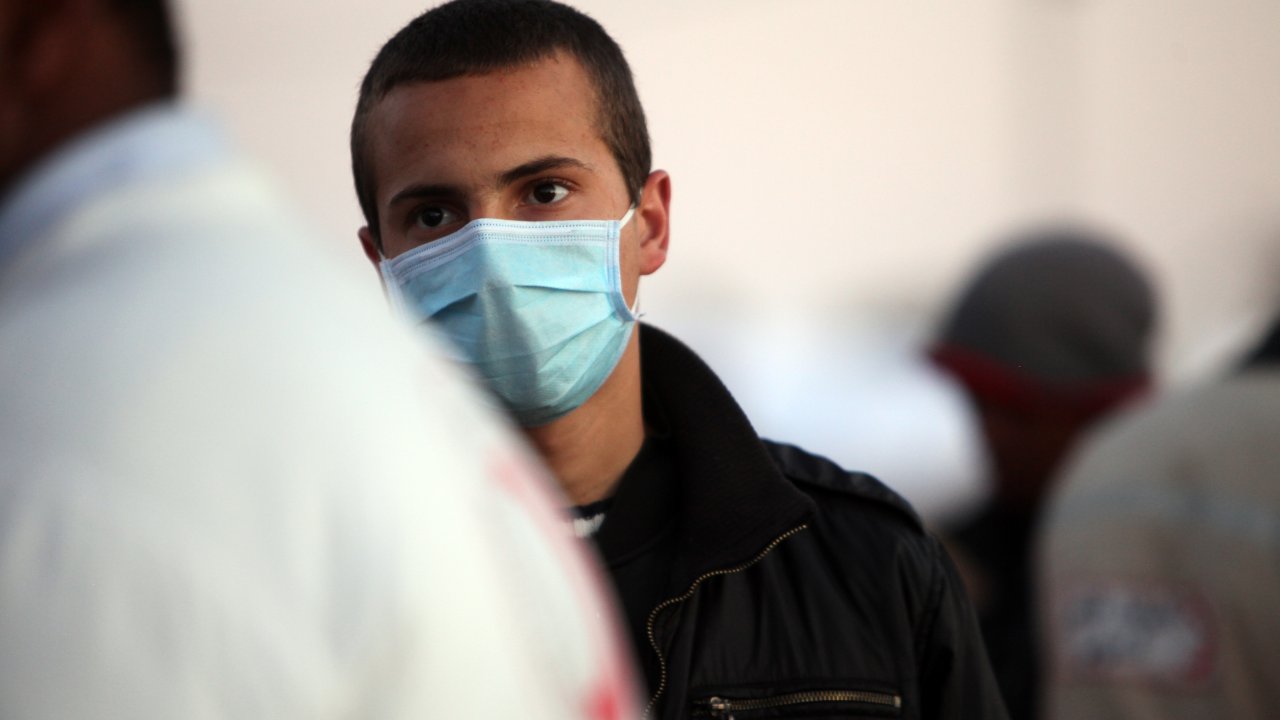 A non-governmental organization health worker at a transit camp near the Tunisia-Libya border. UN Photo by David Ohana/OCHA AVMU
Today, the United Nations University's International Institute for Global Health is launching the beta version of the UNU Evidence, Policy, and Interventions for Covid-19 Tracker. The UNU EPIC Tracker seeks to be an inventory of the public health, economic, social, and community measures taken to respond to COVID-19 across all countries. Uniquely to the EPIC Tracker, these measures include government policies and public sector interventions that aim to control COVID-19, as well measures to mitigate the indirect impacts of the pandemic response, impacts which are felt across all levels of society.
A living platform, the EPIC Tracker will be regularly updated to include new policies, to reflect country responses, and to integrate other sources of data. Coordinated by UNU-IIGH, the EPIC tracker seeks voluntary contributions from both experts and non-experts from across the world and in several languages. UNU-IIGH will curate and validate entries to ensure the tracker is a reliable data source.  We are launching this call for contributions to help us build this repository.
Why we built the EPIC Tracker 
In December 2019, no-one knew of SARS-CoV-2 or the disease it causes, COVID-19. Since then, it has morphed from an unknown coronavirus to a pandemic that has brought countries across the world to a standstill. In response, governments are enacting policies at an unprecedented pace, policies that touch on all aspects of life. However, comprehensive data on government policies to contain COVID-19 and measures to mitigate the related health, social or economic impacts across sectors have not collected in a single resource.
In addition to crowdsourced contributions, the EPIC Tracker collates entries from other policy trackers. The entries in the tracker are grouped by sector and types of interventions based on a typology of policy interventions that is compatible with the typologies of the other trackers. As such, this is a living typology that will be adapted as new interventions emerge and other trackers integrated. Each of the policies will be tagged with a specific sector, type of intervention, and particular demographic group(s) to make them searchable in the database. The tracker is also unique in the relevant sustainable development goals are identified.
In the immediate term, the EPIC Tracker will provide policymakers with a menu of options to inform decision making within their contexts. Given the highly dynamic situation and the near-constant influx of information, sharing ideas between countries with differing approaches and at different stages of the epidemic can help policymakers make timely decisions.  Additionally, analyses of the policies, either within a given country or comparatively, will help answer research questions and address policy challenges in the context of the COVID-19 pandemic. One such example can be read on our accompanying article – Mobility, migrants, and COVID-19: an enhanced challenge to health and human rights.
In the longer term, the tracker will enable policymakers, researchers, civil society groups and others involved in global and national responses to identify effective interventions, learn from other countries' experiences of the direct and unintended impacts of policies, and for policies implemented in their own countries, produce evidence of their impact. For instance, comparing similar policies in different contexts will help identity what works and under what conditions.
How can I contribute? 
Anyone can contribute to EPIC Tracker through the 'Submit Document' button on the epictracker.org homepage. Inputs in multiple languages will be accepted, and the title and summary will be translated into English for global access. The requested information for each policy or intervention will include the country, a title with a short description, when the policy was implemented, relevant sustainable development goals, and a credibility score based on the source of information.
UNU-IIGH will curate entries to the tracker to ensure the quality of the database. This will include verifying information, merging/deleting duplicates, standardising language, translations, and checking sources. The UNU-IIGH team will also fill in the gaps for countries with fewer or no contributions. More detailed information on the methodology underlining the EPIC Tracker and contribution requirements can be found on the website.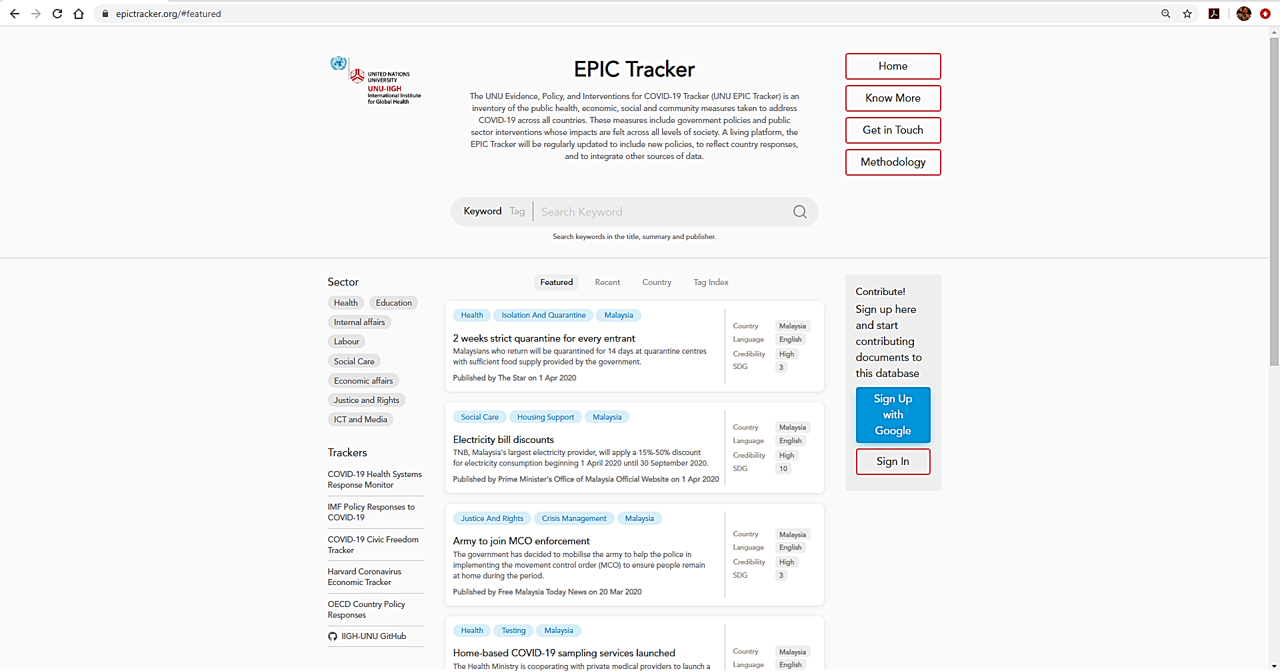 Tap on image to visit the EPIC Tracker website
Future Development 
Today's launch is just the first iteration of the EPIC Tracker. It currently consists of a searchable inventory of policies, integrating other policy trackers as well as contributions from our teams. Subsequent phases will introduce interactive visualisations tools and further integration with additional data sources such as the SDG indicators database, national surveys, and citizen-generated data.
The current pandemic has highlighted the importance of global collaboration. Over time, the EPIC tracker aspires to become a global resource that helps policymakers, researchers, and other interested parties to identify policy options that may apply in their own country and contexts, to measure the health, social and economic impacts of implemented policies, and to inform preparedness for future pandemics.