2018•07•23 Kuala Lumpur
9/7/2018 – Dr. José Siri and Dr. David Tan helped kick off the  39th Asian Medical Students' Conference in Kuala Lumpur, Malaysia. The conference, organised by the Asian Medical Students' Association and co-sponsored by UNU-IIGH, convened over 400 delegates from 14 countries on the theme of infection control.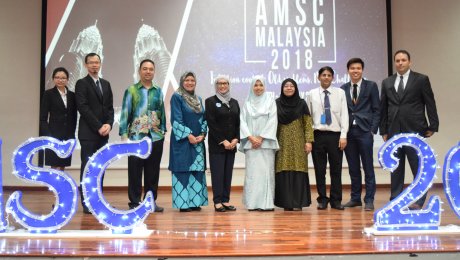 Dr David Tan (2nd from left) and Dr José Siri (first on the right) of UNU-IIGH. Photo: UNU-IIGH. Creative Commons BY-NC 2.0
WHO has recognized infection control as a critical component of universal health coverage and an important aspect of any health system. The related issue of antimicrobial resistance (AMR) has been flagged as one of the most critical challenges facing global health in decades to come, and is the target of a 2015 WHO Global Action Plan that focuses on improving awareness of and developing new knowledge about AMR, reducing infection rates and optimizing use of antibiotics to minimize the evolution of resistance, and making an economic case for development of new antimicrobial agents.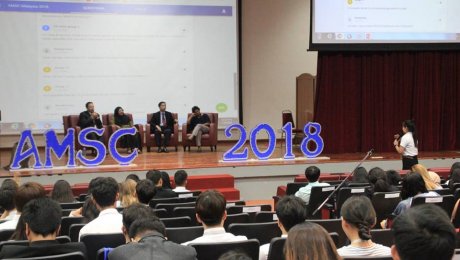 Dr José Siri (first on the left) on the panel discussing antimicrobial resistance. Photo: UNU-IIGH. Creative Commons BY-NC 2.0
At the 39th AMSC, Dr. Tan represented UNU-IIGH in the opening ceremonies, drawing linkages between the medical challenges of antibiotic resistance and infection control and broader social issues. Dr. Siri joined Professor Dr. Zamberi Sekawi of University Putra Malaysia and Professor Sasheela Sri La Ponnampalavanar of University of Malaya in a forum on antimicrobial resistance, highlighting the emerging threat of multidrug-resistant organisms, and the value of systems approaches in analysing and responding to this threat.
Slides for Dr Siri and Dr Tan's lectures are here: a) AMSC Malaysia MDR SIRI 070718 b) AMSC_DTan