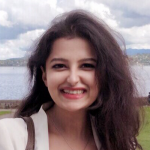 INSTITUTE:

UNU-IIGH

E-MAIL:

vidisha.mishra@unu.edu

NATIONALITY:

India
Research Interests
Education
Msc. Gender, Development and Globalisation, London School of Economics and Political Science (LSE), UK
BA, Politics and International Studies, University of Warwick, UK
Appointments
The Margherita von Brentano (MvBZ), Center for Gender Studies, Freie Universität Berlin, Germany (February 2020-July 2020) -- Visiting Fellow
Weizenbaum Institute for the Networked Society (Germany Internet Institute), Berlin, Germany (September 2019-February 2020) -- Research Fellow, Education and Advanced Training in the Digital
Observer Research Foundation (ORF), New Delhi, India (August 2014 – September 2019) -- Associate Research Fellow and Gender Lead
Biographical Statement
Vidisha Mishra is an Indian social scientist with over 6 years of experience working at the intersection of policy advice and academic research in gender, digitization, and South-South cooperation for the SDGs.
Prior to joining UNU, Vidisha was a Research Fellow at the German Internet Institute (Weizenbaum Institute) in Berlin, Germany where she worked on the interactions between gender norms and new technological interventions, particularly in education and health. Her previous experience includes multistakeholder project management and cross-disciplinary engagement. She worked as a Gender Lead and Associate Fellow at the Observer Research Foundation (ORF), one of India's leading think tanks where she was responsible for programmatic gender mainstreaming across ORF's international partnerships.
Vidisha is a member of the Women20 (W20) Network— and has been a member of the Think Tank 20 (T20) Digital Economy Task Force—both official engagement bodies for policy formulation of the G20 economies. Previously, she has also held competitively awarded fellowships at the German Federal Foreign Office's International Futures Programme and the German Development Institute's Managing Global Governance Programme.
Vidisha holds a Master's degree in Gender, Development, and Globalisation from the London School of Economics and Political Science (LSE), UK and has over 30 publications including academic papers, journal articles, book chapters as well as media opinion pieces.