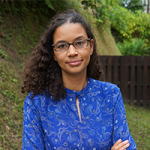 INSTITUTE:

UNU-IIGH

OFFICE:

UNU-IIGH

E-MAIL:

michelle.remme@unu.edu

PHONE:

+603-91715394

NATIONALITY:

Netherlands
Research Interests
Capacity Development
Capacity-building
Circular Economy
Development Economics
Gender and Discrimination
Gender Aspects of Sustainable Development
Global Change & Sustainable Development
Global social policy
Health
Human Rights
Impact of research policy
Non-Communicable Disease
North-South co-operation
Policy analysis
Policy development
Poverty and Inequality
poverty and vulnerability
Public health
Social Entrepreneurship
South-North relations
South-South social cooperation
Sustainable development
Sustainable Development Goals (SDGs)
Violence against Women
Education
PhD in Health Economics from the London School of Hygiene and Tropical Medicine
MSc in International Economics and Finance from Tilburg University
Biographical Statement
Dr. Michelle Remme is a Research Lead at the United Nations University's International Institute for Global Health (UNU-IIGH). She has thirteen years of experience as a researcher and policy advisor in global health, having worked in academia, the UN system, donor development cooperation and private consulting.
Prior to joining UNU, Dr. Remme served as Assistant Professor in Health Economics in the Department for Global Health and Development at the London School of Hygiene and Tropical Medicine. She was also a Scientific Collaborator at the Ifakara Health Institute in Tanzania.
Her previous experience includes policy advice and technical assistance at the Dutch Ministry of Foreign Affairs and Development Cooperation on the socio-economic dimensions of HIV/AIDS and broader health financing issues, and at the Food and Agriculture Organisation of the United Nations in Malawi on the integration of HIV, gender and food security. She has also consulted for the World Bank, World Health Organisation, Overseas Development Institute, United Nations Development Programme, among others, in Mali, Malawi, the Central African Republic, Burkina Faso and Nigeria.
Her research has focused on the efficiency and economic evaluation of HIV-related programmes, health system financing, including results-based financing, innovative co-financing models for multi-sectoral action on the social determinants of health, incentives for community health volunteers, public-private partnerships, aid effectiveness and the economics of violence against women and girls programming.
She holds a PhD in Health Economics from the London School of Hygiene and Tropical Medicine and an MSc in International Economics and Finance from Tilburg University.