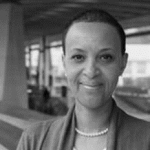 INSTITUTE:

UNU-IIGH

E-MAIL:

asiya@unu.edu

PHONE:

+603-9171 5394

NATIONALITY:

United Kingdom of Great Britain and Northern Ireland
Biographical Statement
Asiya Odugleh-Kolev is responsible for the Department of Integrated Health Services work on community engagement for quality, people-centred and resilient health services. She is normally based in Geneva at WHO headquarters. While at UNU she will be consolidating the community engagement portfolio that she currently holds.
Previously, she was team leader, behavioural and social interventions for epidemic readiness and response. In this role she trained and counselled multidisciplinary rapid response teams as well as being deployed to provide specialist support to countries dealing with infectious disease outbreaks. During her time at WHO she has worked alongside WHO Regional and Country offices, Member States and Partners to develop and implement communication and engagement strategies, as well as capacity building workshops, at community, district and national levels across a range of communicable disease programmes.
Asiya began her community development work as a youth volunteer and later took up a full-time position as a Community Development Worker where she worked with refugee families, women and community groups in the UK. She supported their integration into local neighbourhoods as well as helping refugee community groups and institutions to self-organize and address policies that affected them across housing, education and health. In 1999 she returned to her birthplace and worked for UNICEF Somalia as a national officer in programme communication and social mobilization.
Asiya comes from a multi-disciplinary background. She qualified as a Registered General Nurse from the Sheffield School of Nursing; she holds a BA (Hons) in Third World Studies with Anthropology from the University of East London; a Postgraduate Diploma in Print Journalism from the University of Westminster, London; and a Master's in Public Health from the London School of Hygiene and Tropical Medicine. In 2017, she was awarded Honorary Membership of the Faculty of Public Health, UK.
She is a firm believer in applied research & scholarship. Her interests are in health system reform and identifying pathways to develop policy recommendations and options that support the emergence of people-centred health systems capable of contributing to the health and well-being of its own workforce and the populations they serve.