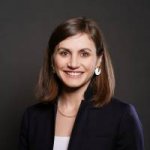 INSTITUTE:

UNU-IIGH

E-MAIL:

solomon.alexandra@unu.edu
Education
Master of International Affairs in Human Rights
Biographical Statement
Alexandra Solomon is an independent consultant and a Visiting Fellow at the United Nations University International Institute for Global Health (UNU-IIGH). She specializes in research and advocacy at the intersections of gender equality, sustainable development, and human rights. Her interests and areas of expertise include intersectional gender analysis, institutional gender mainstreaming, rights-based advocacy and communications, and feminist grantmaking.
At UNU-IIGH, Alexandra contributes to ongoing gender research, policy advocacy, and internal capacity building. She also works across the UNU institutes to advance gender integration in research with projects such as the UNU Gender Atlas.
Alexandra has implemented gender equality and women's rights initiatives with numerous international organizations including the United Nations Foundation, FP Analytics (the research division of Foreign Policy), the World Health Organization, USAID, Transparency International in Ghana and Zimbabwe, and the U.S. Peace Corps in Azerbaijan. She has also held international media roles as a human rights reporter in Germany, a media capacity development researcher at the Natural Resource Governance Institute, and a consultant in Data and Audience Insights at The New York Times.
Alexandra holds a Master of International Affairs degree from Columbia University School of International and Public Affairs, with a concentration in human rights and specialization in gender and public policy.