DATE / TIME:

2013•01•30 - 2013•02•02

Location:

Nairobi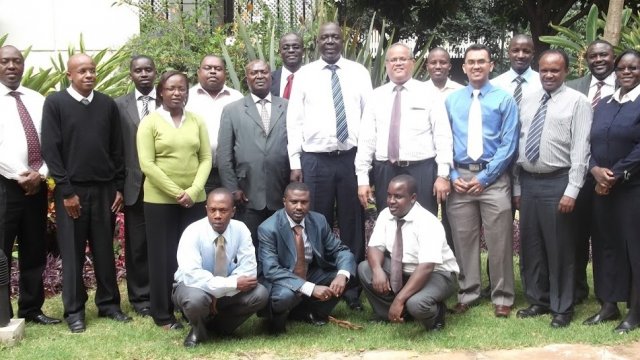 Senior Research Fellow, Professor Dr Syed Aljunid led the UNU-IIGH mission to Nairobi, Kenya and conducted a two-day workshop on Implementation of Casemix System and Installation of UNU-CBG/DRGs Software on 30-31 January 2013. UNU-IIGH Casemix IT Expert, Mr Syed Mohammad Hamzah, accompanied Prof Syed Aljunid in the mission.
The workshop was organised and hosted by National Hospital Insurance Fund of Kenya (NHIF) that is a national health insurance agency under the Ministry of Medical Services of Kenya. NHIF is currently covering 9 million people mostly are civil servants and their dependents.
The aim of the workshop was to introduce the concept of Casemix/DRG system and to prepare the plan of action to implement UNU-CBG casemix system as a tool for provider payment method to enhance efficiency and quality of services delivered by hospitals in Kenya funded by NHIF programme.
A total of 19 participants from three main departments of NHIF i.e. Finance Department, Benefits and Quality Assurance Department and Information and Communication Department took part in the workshop.
The workshop was officiated by Dr. George Midiwo, General Manager of Benefit and Quality Assurance Department. The participants were given hands-on tutorials to use three software developed by UNU-IIG i.e. UNU-CBG Casemix Grouper, Data Tool Pro Coding Software and Casemix Costing Template.
It was planned that a series of at least five workshops will be conducted within the next 10 months to build human resource capacity in NHIF to implement the Casemix system.
After an initial pilot project, the Casemix System will be gradually upscaled to cover all the 700 hospitals and ambulatory care facilities in Kenya. UNU-IIGH delegates visited the NHIF Headquarters on 2nd of February during the mission and supervised the installation of the softwares. Both Prof. Syed Aljunid and Mr. Hamzah had a brief meeting with Mr. Jackson Gittimu, General Manager Operations who is the acting Chief Executive Officer of NHIF.
The team also met with Mr. Lawrence Ondari, General Manager of Finance and Control of NHIF. Both Mr. Gittimu and Mr. Ondari expressed their gratitude to UNU-IIGH for supporting the initiative to build human resource capacity and provide the software for implementation of Casemix System in NHIF. They further confirmed their commitment to mobilise resources to ensure the successful implementation of the project.