DATE / TIME:

2021•07•12 09:00 - 2021•07•15 12:30

Location:

Kuala Lumpur

 Links to Recording of Event: Session 1, Session 2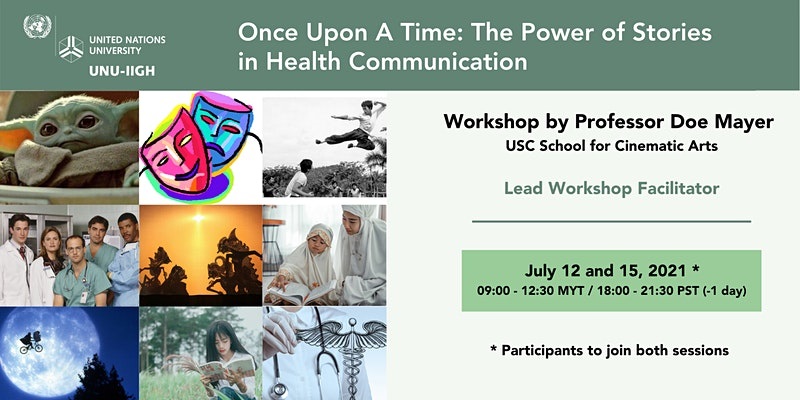 Telling stories is one of the most effective means for conveying a complex and difficult topic. A well-crafted story has the ability to influence, teach, motivate and inspire.
Professor Doe Mayer (United Nations University International Institute for Global Health and University of Southern California, Annenberg School for Communication and Journalism, School of Cinematic Arts) leads a series of two workshops to improve communication skills for storytelling in the health sciences.
Objectives:
1. To improve oral and written skills using stories for personal exchange and professional outputs and encourage the use of imagination and creativity in effective storytelling.
2. To design and implement storytelling strategies which will contribute to successful communication of project results and outcomes.
3. To learn what Neuroscience tells us about how the brain responds to stories and how it deals with data.
4. To understand story structure and components to improve communication outreach.
5. To introduce a process to identify and refine stories for better health and policy results.
Who Should Join
Early career professionals in the health and natural sciences
Practitioners in the health and natural sciences
Those who want to improve their storytelling skills to become more persuasive when talking to specific audiences and policymakers
Workshop Dates and Times
Note: Registrants are asked to attend both workshops. Attendees who do not participate in Workshop 1 will not be permitted to join Workshop 2.
Workshop 1: 12 July, 09:00 – 12:30 MYT / 06:30 – 10:00 IST / 18:00 – 21:30 PST (-1 day)
Workshop 2: 15 July, 09:00 – 12:30 MYT / 06:30 – 10:00 IST / 18:00 – 21:30 PST (-1 day)
Registration is required. Seating is limited to the first 25 registrants.
Successful participants will be messaged a Zoom link separately prior to the event (please install and ensure Zoom and your equipment is working).