DATE / TIME:

2021•04•27 15:00 - 17:00

Location:

Kuala Lumpur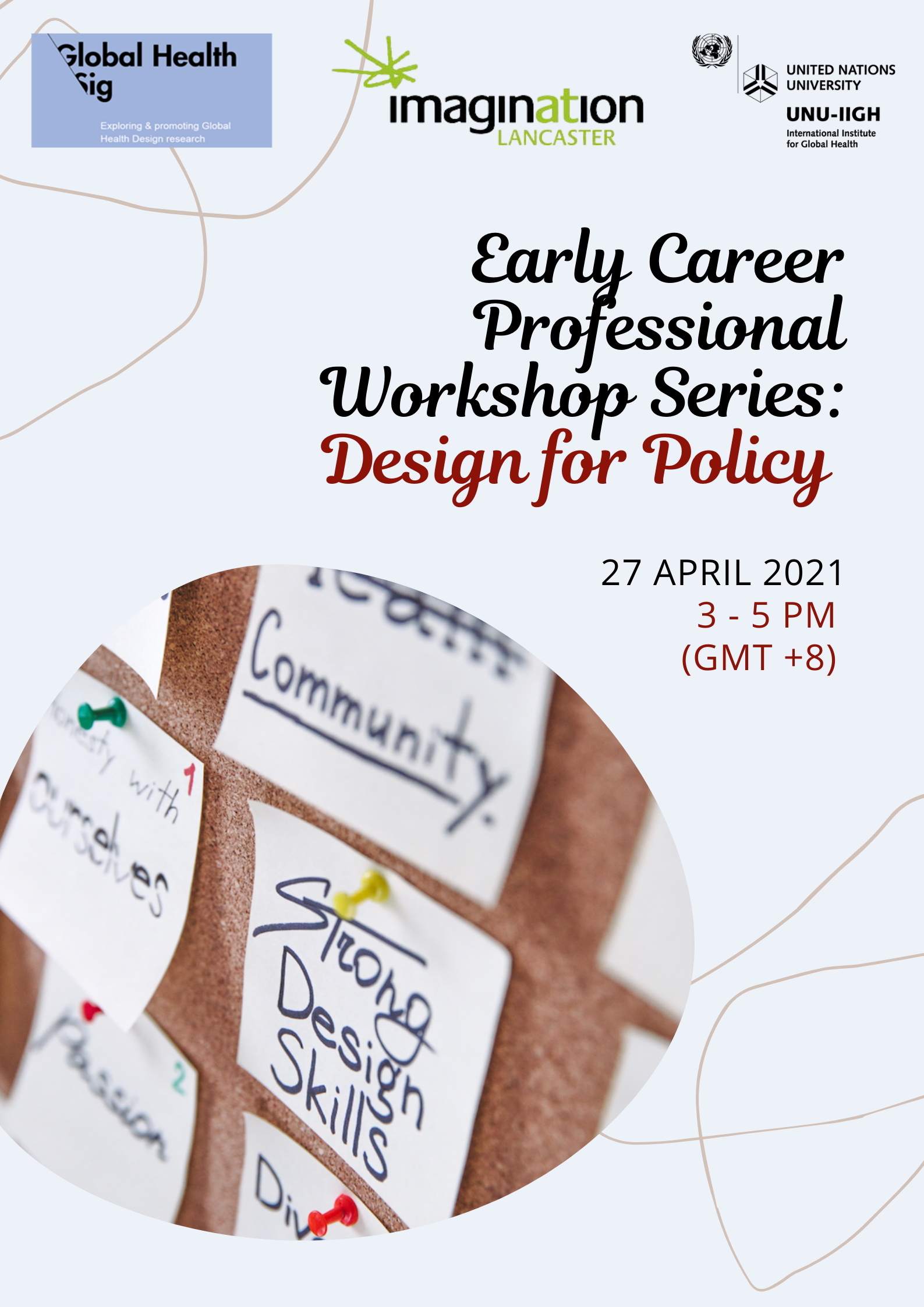 A Call for Participants
When developing policies, researchers and policymakers face unique challenges in addressing complex issues. These issues require creative and innovative solutions; hence, in recent years, design experimental methods such as rapid prototyping, speculative design and co-design have been introduced into the policymaking process to engage a more comprehensive array of stakeholders. This year, UNU-IIGH, Imagination Lancaster (Lancaster University), and the Design Research Society Global Health and Policy and Governance Special Interest Groups will launch a workshop series focused on the theme 'Design for Policy', which is a creative approach to problem-solving and a useful method to engage stakeholders in the policy process.
The three-part workshop series will kick start in April 2021 – each workshop will target one of three main audience groups: early-career professionals, design researchers, and policymakers. The aim of this first workshop is to introduce early-career professionals to the principles of Design for Policy and some of its key benefits. Highly interactive, you will be introduced to examples of how design is used in the development of policies, by quickly developing and testing policy ideas to inform the policy-making process.
This is a unique opportunity for early-career professionals from all fields to come together to explore this emerging and exciting field of research. This workshop focuses on how to inform policymaking through design methods, particularly in areas that have been highlighted by the COVID-19 pandemic.
To participate, please register here: https://go.unu.edu/vHp2J.
Due to its highly interactive nature, we can only accommodate 45 participants in this workshop. Registration will remain open until 26 April and the first 45 participants to log in through the workshop link after 2:45 pm (Malaysia Time) will be admitted to the workshop. Please show up early to ensure you have a spot in this exciting event.
Event Details
Date: 27 April 2021
Time: 3:00 – 5:00 pm (MYT)
Register: https://go.unu.edu/vHp2J