DATE / TIME:

2011•11•15 - 2011•11•19

Location:

Bandung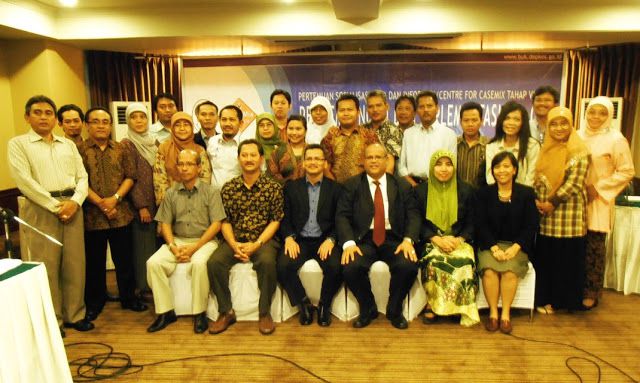 The United Nations University-International Institute for Global Health (UNU-IIGH) in collaboration with International Center for Casemix and Clinical Coding of UKM concluded the 5th workshop from the 17 planned series of workshops on the development of INA-CBG using the UNU-IIGH Grouper, held in Bandung, Indonesia on 15-19 November 2011.
The UNU INA-CBG project is funded by Australian Agency for International Development (AusAID). This workshop was the start-up activity for the finalization of cost weight, hospital base rate and INA-CBG Tariff. The workshop was attended by 104 participants from the National Center for Casemix of MOH Indonesia and representatives from participating hospitals across Indonesia.
The Casemix experts from UNU-IIGH had presented the preliminary results of hospital base rate and cost weights and these scientific parameters are necessary to generate the INA-CBG Tariff. The culminating activity in this workshop was the the Round Table Discussion (RTD) on development social protection with senior officers of the MOH and Jamkesmas.
The UNU-IIGH Team headed by Prof. Syed Aljunid presented the adjustment factors to be considered in generating the INA-CBG Tariff. In his report he mentioned some of the factors that Indonesia may take into consideration when adjusting the national tariff. These factors include technology, location of the facility, teaching/training function, quality and choice of care. He also introduced the idea that social health insurance (SHI) should start shifting from passive to active purchaser of health services.
By this way, SHI shall exercised its role to leverage its purchasing power to control and contain health care cost, thereby, ensuring financial protection to its beneficiaries. The discussions among the experts were productive and final discussion on the finalization of INA-CBG Tariff will be held on 26-27 January 2012 in Jakarta. Thus, it is expected that by middle of 2012 a new tariff will be used in claims reimbursement for the beneficiaries of Jamakesmas.