DATE / TIME:

2019•04•02 10:00 - 11:30

Location:

New York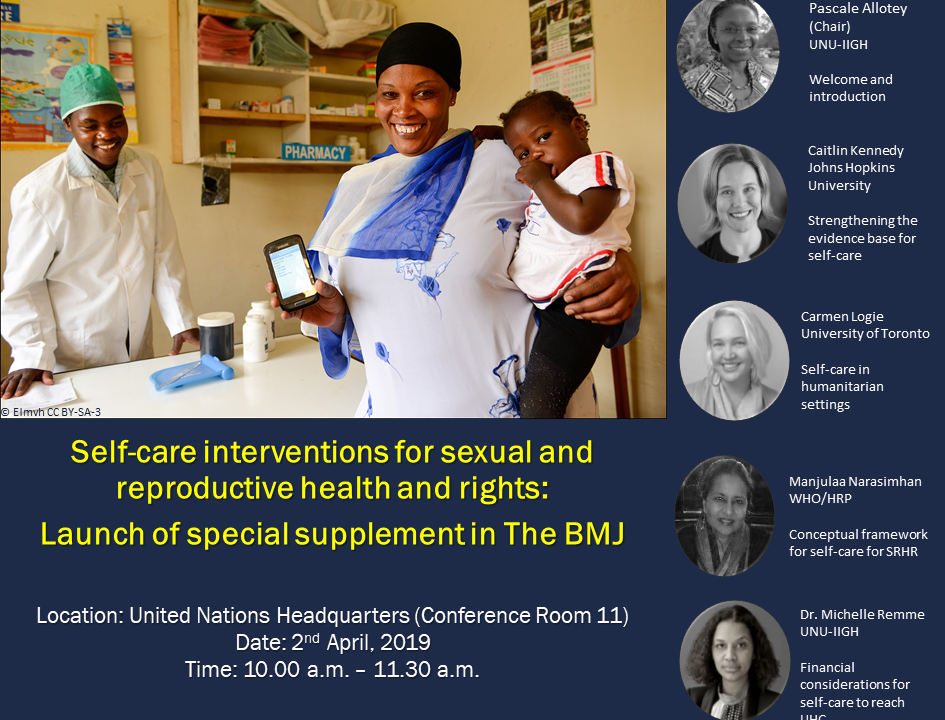 #selfCare4SRHR
Self-care interventions sexual and reproductive health and rights (SRHR) offer opportunities for individuals to improve their autonomy and agency regarding their own health.  Self-care can also provide an innovative approach to strengthening health systems to improve access to quality interventions and universal health coverage. The WHO is developing a consolidated Guideline containing evidence-based recommendations outlining key public health care interventions for SRHR, with a focus on vulnerable populations and settings with limited capacity and resources in the health system.
The WHO and United Nations University is pleased to invite you to the launch of the British Medical Journal (The BMJ)  supplement entitled 'Self-care interventions for sexual and reproductive health and rights'. This special supplement includes a collection of analysis, systematic reviews and opinion pieces, providing an evidence base for the development of global normative guidance.
The launch will be prefaced by a panel discussion featuring top names in #selfcare and #SRHR research and policy development.
Speakers:
Prof. Pascale Allotey (Moderator), UNU-IIGH
Dr. Manjulaa Narasimhan, WHO/HRP
Dr. Michelle Remme, UNU-IIGH
Dr. Carmen Logie, Univeristy of Toronto
Dr. Caitlin Kennedy, Johns Hopkins University
Please register by Thursday, 28th March 2019 at 12 pm (+8 GMT).