DATE / TIME:

2021•06•03 21:00 - 22:00

Location:

Kuala Lumpur

Link to recording of event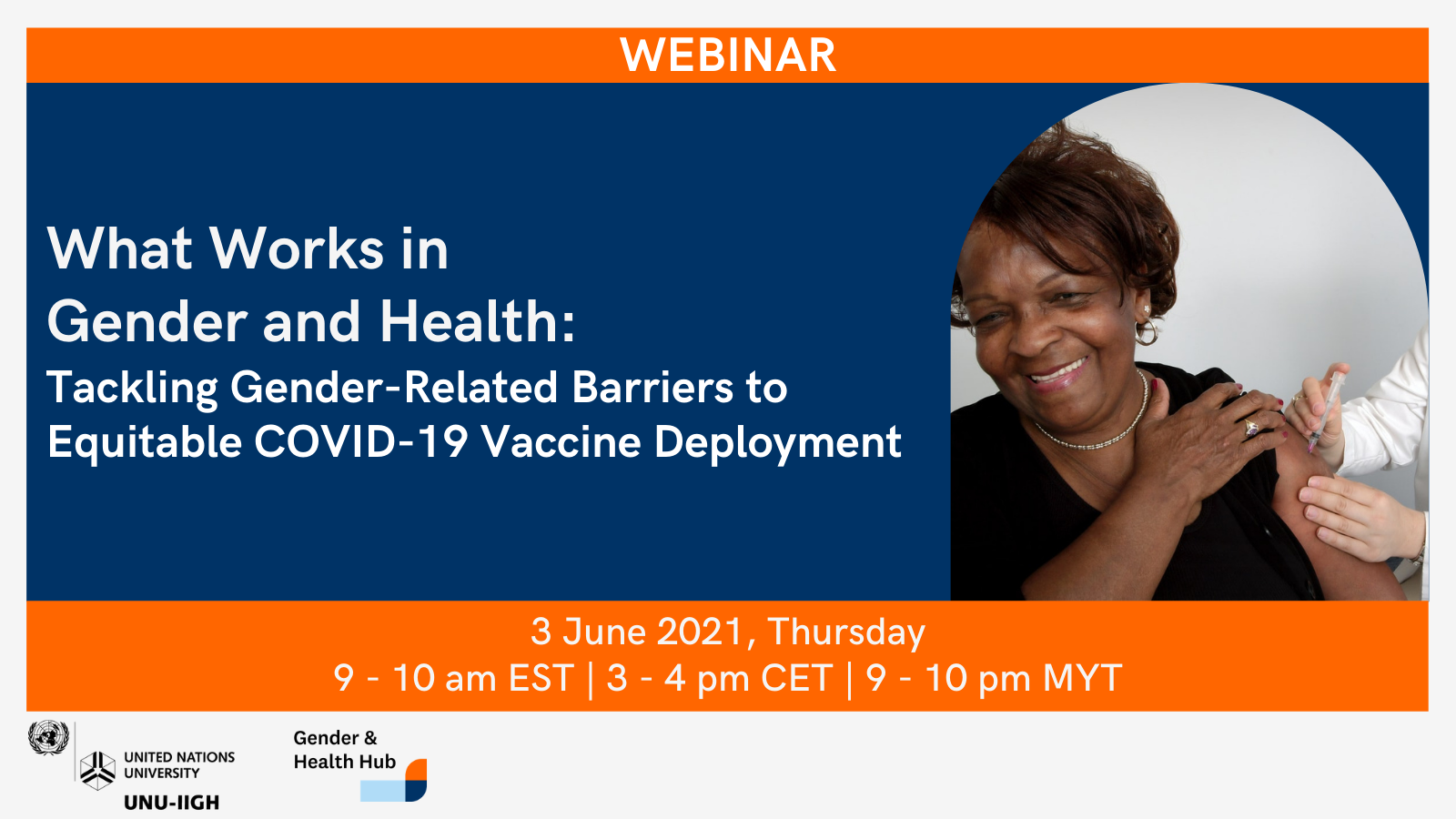 Part of the UNU IIGH Gender and Health Webinar Series
What You'll Learn
With one of the largest public health crises upon us, our goal should be to safely vaccinate as many women, men, and gender-diverse people as possible, equitably, efficiently, and effectively, to maximize the protective benefits of COVID-19 vaccines. Gender-related barriers and inequities in communities and health systems negatively affect access to health services, including vaccination.
The consequences of neglecting these barriers in COVID-19 vaccine deployment include insufficient or fragmented vaccination delivery, demand, and access, resulting in gaps in vaccination coverage and hindering the achievement of population-level immunity needed to curb the pandemic. To support governments and other actors in ensuring more gender-equitable COVID-19 vaccine deployment, the Gender Equality Working Group of the SDG3 Global Action Plan For Healthy Lives and Well-Being and the Gender and Health Hub at UNU-IIGH have produced a guidance note and checklist which provide a set of practical actions for countries to implement and ensure gender equality and equity in the deployment of COVID-19 vaccines towards the aim of "leaving no one behind".
This Webinar Will
1. Present the gender and vaccines guidance note and checklist for tackling gender-related barriers to equitable COVID-19 vaccine deployment.
2. Discuss recommendations and challenges to address gender-related barriers and inequities in the field of vaccine delivery and uptake in the Global South.
3. Explore strategies implemented by selected countries related to equitable vaccine deployment.
Event Details
When: Thursday 3 June
Time: 9:00 – 10:00am (EST) /  3:00 – 4:00pm (CET) / 9:00 – 10:00pm (MYT)
Registration: https://go.unu.edu/k4CsP
The webinar will be on the Zoom platform and registration via Eventbrite is mandatory. The connection details will be sent to you via email upon registering.