DATE / TIME:

2021•02•10 15:00 - 16:00

Location:

Kuala Lumpur

Link to recording of event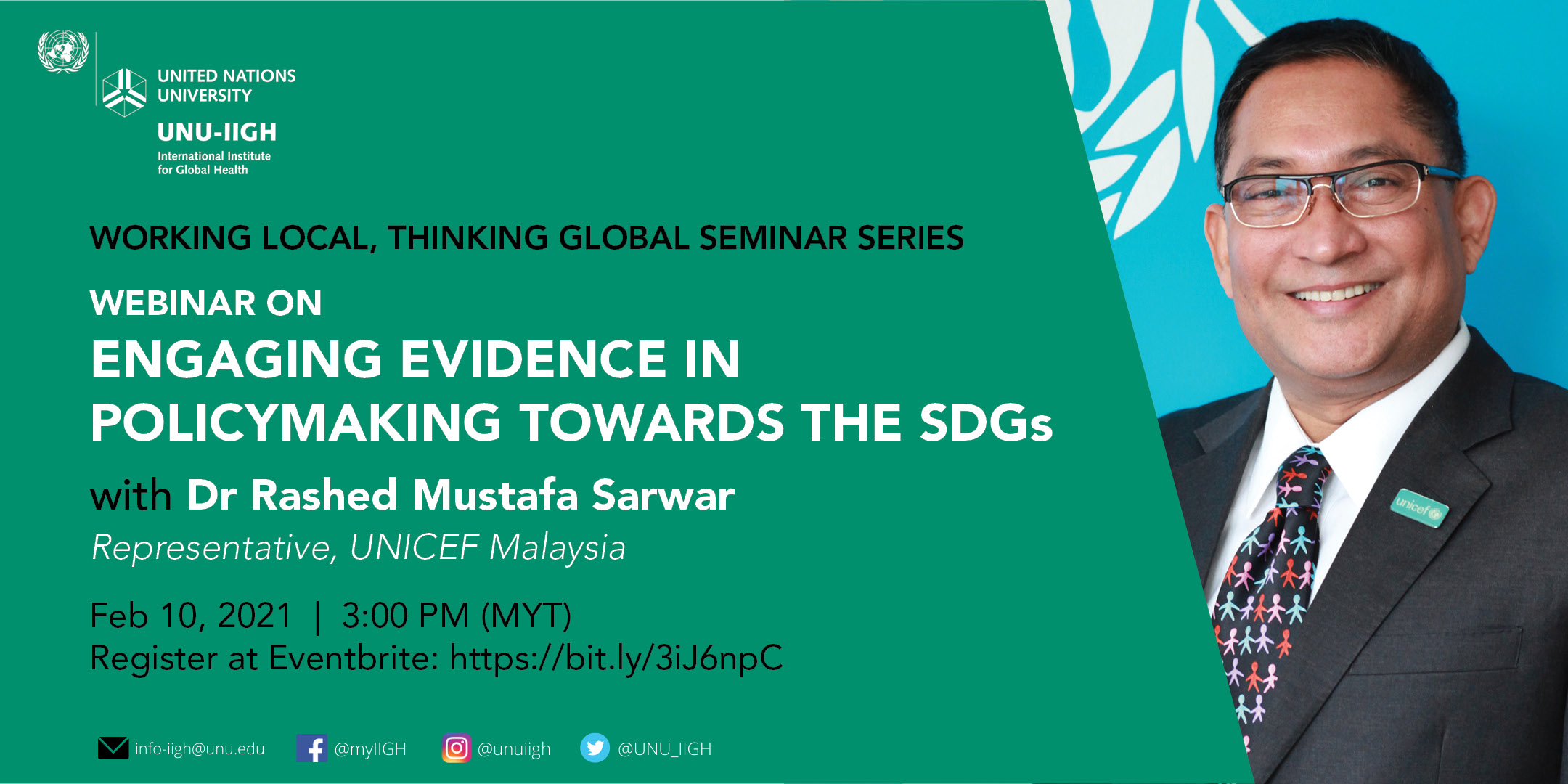 On 10 February 2021, UNU-IIGH will host Dr Rashed Mustafa Sarwar, UNICEF Representative in Malaysia, in a virtual conversation held via Zoom Webinar at 3:00 PM (MYT).
This year, UNICEF celebrates its 75th anniversary amid a global pandemic; this milestone is a reminder of our legacy, our unwavering focus on child rights, our commitment to achieve results for children, while the pandemic is also an opportunity to reimagine a better world for every child. COVID-19 has transformed how we think about, and deliver, our programming for children, but some key principles remain unchanged: as a global organization, with an ambitious Strategic Plan, we work with local partners towards achieving the Sustainable Development Goals, for a world in which no one is left behind. Using case studies from around the world, the seminar will highlight how UNICEF works with its allies and partners to harness change through evidence, along with important lessons learnt. And it will attempt to explain what "working local, thinking global" can mean for an organization with over 10,000 staff members in 190 countries globally.
The UNU-IIGH "Working Local, Thinking Global: Engaging Evidence in Policy Making towards the SDGs" seminar series aims to provide a forum for intellectual discussion on the work of the United Nations, bringing together academics, researchers, and civil society actors across Malaysia to meet and engage with relevant counterparts in the United Nations Country Team. This is the fourth seminar and the third hosted as a webinar.
Speaker
Dr Rashed Mustafa Sarwar, Representative, UNICEF Malaysia
Discussant
Dr Mike Penkunas, Research Fellow, UNU-IIGH
When: Wednesday 10th February
Time: 3:00pm – 4:00pm (MYT)
Registration: Click Here
The webinar will be on the Zoom platform and registration via Eventbrite is mandatory. The connection details will be sent to you via email upon registering.