DATE / TIME:

2020•12•15 14:00 - 15:00

Location:

Kuala Lumpur

Link to recording of event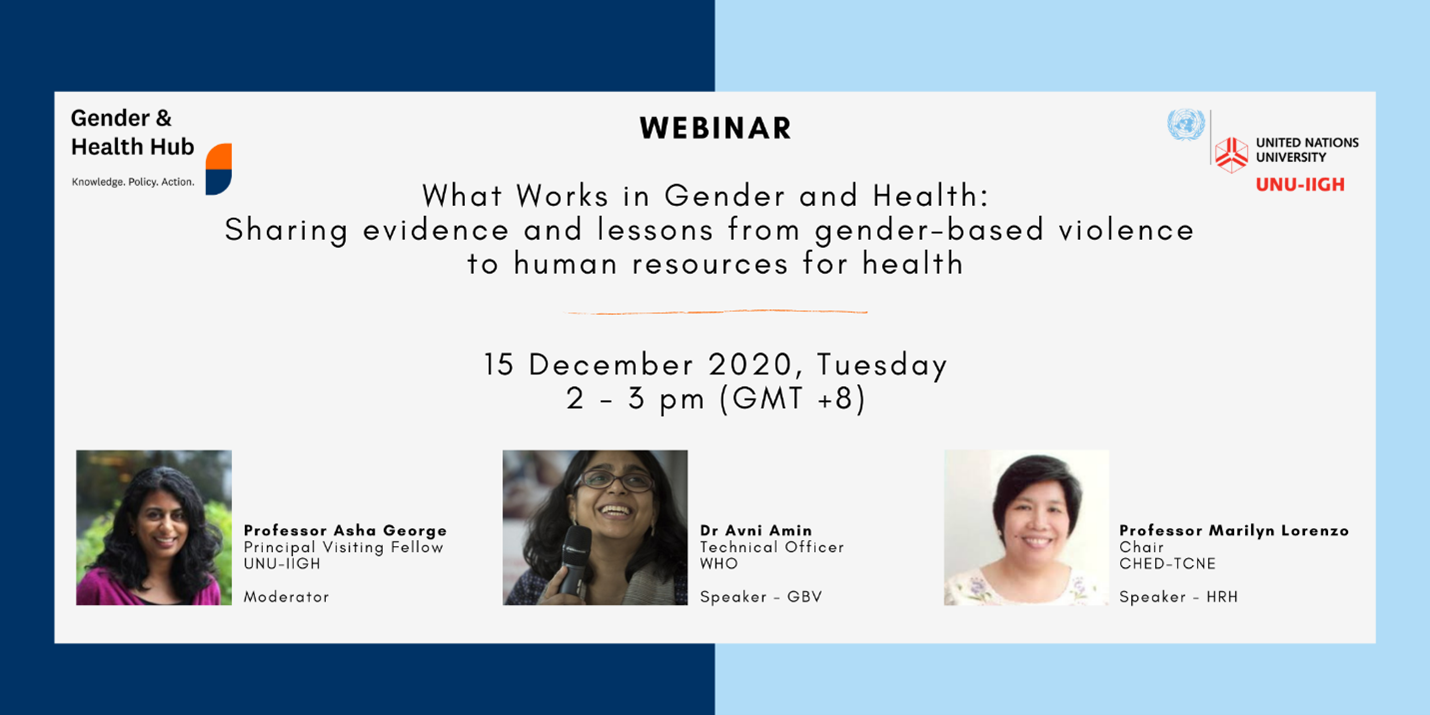 About the Gender & Health Hub
The Gender & Health Hub (GHH) coordinated by United Nations University International Institute for Global Health (UNU-IIGH) is a platform for collaboration, practice-based learning, and co-production of critical analyses and evidence on promoting gender equality in health. In addition, the GHH strives to broker new partnerships and alliances to extend the sources of evidence and support dissemination and policy translation.
Webinar abstract 
As 2020 draws to a close and we take stock of all that has transpired in the wake of COVID-19, opportunities for reflection and shared learning emerge. This year has seen a frightening increase in gender-based violence (GBV) as many were confined to their homes, jobs were lost, and lives and livelihoods severely disrupted.
This increase in violence has not been limited to private spaces. Attacks on healthcare workers, the majority of which are female, have also been widely reported. Now more than ever, the call and actions required to eliminate all forms of gender-based violence take on a new level of urgency. Drawing on the evidence amassed over years of tackling GBV, this webinar brings together experts to discuss the transferable lessons from the field of GBV which can be applied to the human resources for health space.
The webinar will be moderated by Professor Asha George who is also a Principal Visiting Fellow at UNU-IIGH.
Speaker(s):
Dr Avni Amin, Technical Officer (WHO)
Professor Marilyn Lorenzo, Chair (CHED-TCNE)
Discussant:
Professor Asha George, Principal Visiting Fellow (UNU-IIGH)
When: 15 December 2020, Tuesday
Time: 2 – 3 pm (GMT +8)
Registration: Click Here
This discussion will be on the Zoom platform and registration is mandatory. The connection details will be sent to you via email upon registering.
For real time updates on our programmes, please connect with us on our Twitter, Facebook, LinkedIn or Instagram accounts. If you have any questions or suggestions, please reach us at iigh-info@unu.edu.