DATE / TIME:

2021•03•03 08:00 - 08:30

Location:

London

Link to recording of event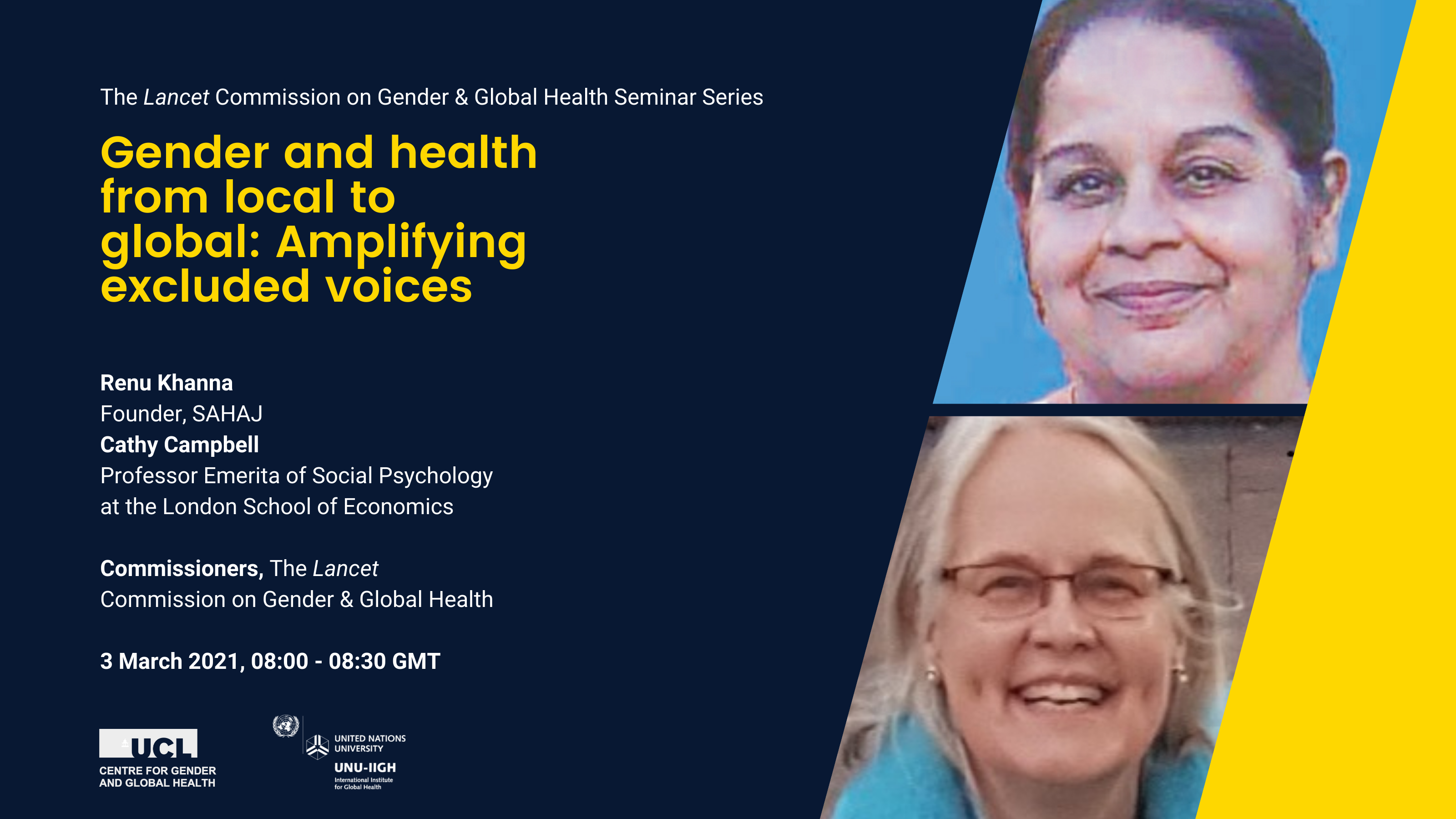 The recently established Lancet Commission on Gender and Global Health is delighted to announce a new fortnightly seminar series open to all. The Series accompanies the development of the Commission, inviting Commissioners and Co-Chairs to discuss a key topic, question, or challenge that the Commission hopes to tackle. The series aims to involve a range of stakeholders and voices in its work and promote discussion and debate on gender and health.
In the third event of the series, Commissioners Renu Khanna & Cathy Campbell will be giving a joint seminar, "Gender and health from local to global: Amplifying excluded voices".
Whilst the importance of 'community mobilisation' is repeatedly emphasised in the theory and practice of critical public health, less attention is given to the processes through which community voices might shape health policies at regional, national and global levels. Such policies often tend to be imposed on excluded groups in a relatively top down way, with little accountability to policy target groups.
Their presentation explores the triumphs and challenges facing SAHAJ, a non-governmental organisation in India, which seeks to 'localise Sustainable Development Goals'. The seminar will discuss the processes of amplifying the influence of historically excluded women, men and LGBT groups on sub-national and national-level health decision-making, to promote the maxim of 'leave no one behind' . The talk will reflect upon the challenges of advancing health-enabling social change in rapidly changing times.
Speakers
Commissioner Renu Khanna, Founder, SAHAJ
Commissioner Professor Cathy Campbell, Professor Emerita, Department of Psychological and Behavioural Science, London School of Economics
When: Wednesday 3 March
Time: 4:00 – 4:30pm MYT (8:00 – 8:30am GMT)
Registration: Click Here
The event is open to all and will also be live-streamed on our dedicated YouTube channel. Pre-registration is encouraged.
About The Lancet Commission on Gender and Global Health
In August 2020, a new Lancet Commission on Gender and Global Health was launched. The Commission, with three co-chairs and 25 commissions, has been set up with the explicit and uncompromising aim to move beyond the evidence to catalyse action on gender and global health. The Commission is being co-chaired by UCL Centre for Gender and Global Health Director, Sarah Hawkes; Director of the United Nations University International Institute for Global Health, Pascale Allotey; and Chair of the Kofi Annan Foundation and former Secretary-General of the International Federation of Red Cross and Red Crescent Societies, Elhadj As Sy.
Find out more about The Lancet Commission on Gender and Global Health here. Further information on the Commissioners and Co-Chairs can be found here.