In the last couple of months, the COVID-19 pandemic has and continues to affect many aspects of life, disrupting education, employment and economic activities, and global supply chain through the unprecedented government policy measures to tackle the virus. Prior to the emergence of the virus, gender inequalities already persisted, and COVID-19 is exacerbating existing inequities and inequalities. Women and girls bearing a disproportionate burden – e.g. health outcome, education, burden of unpaid care work and social risks – due to systemic barriers and social norms and unequal power relations. Covid-19 is not gender-blind, and neither should the global and national response efforts.
In this UNU-IIGH Gender and Health Seminar Series on "COVID-19: Conversations in the Global South", Dr. Amaya Gillespie will discuss the gender and social and economic impacts and opportunities of COVID. The talk will also highlight:
1. The gender dimensions of community engagement and risk perceptions around COVID-19
2. Leveraging lessons on past health emergencies to tackle COVID-19 related gender issues
3. Applying a gender perspective on opportunities, strategies and practices for COVID-19 national responses
About the speaker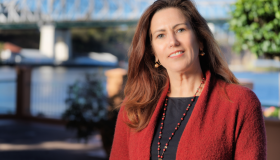 Dr Amaya Gillespie is a public health expert and senior leader in the United Nations system where she has championed the rights of women and children as part of her work with organisations such as the World Health Organisation (WHO), UNICEF, and UNAIDS.
Her grounding in public health and behavioural science has been the common thread throughout her career. She has a reputation as a social justice advocate, and as a leader in complex emergencies and pandemics (HIV, Ebola, Zika, COVID-19).
She is also an accomplished international executive and career coach, and a Principal Visiting Fellow of UNU, KL.
Amaya is currently leading coordination of the COVID-19 response for the middle east region in a joint role with WHO and UNICEF.