DATE / TIME:

2022•04•29 20:00 - 21:00

Location:

Kuala Lumpur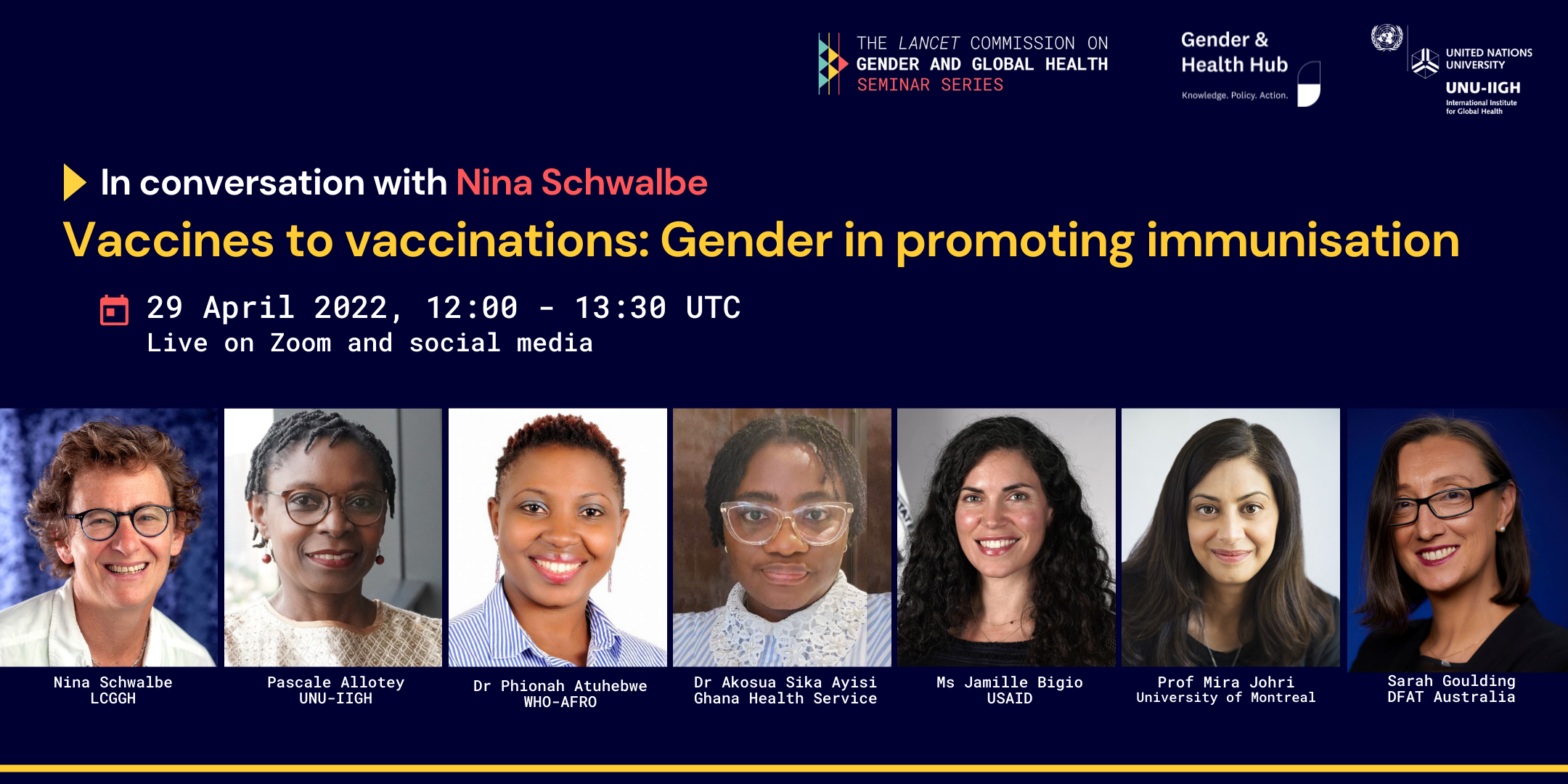 24-30 April is the celebration of World Immunisation Week, commemorating the collective action needed and promoting the use of vaccines to protect people of all ages against disease. The theme for 2022 is 'long life for all'. But the achievement will be hampered without significant effort to tackle the challenges of the inequities inherent in the development and production of vaccines, the distribution and supply, and access and uptake. 
The COVID-19 pandemic provides a stark illustration of the disparities. In this session, we will review the cost of gender inequity in the COVID-19 response, focusing on vaccination. More than a year into COVID-19 vaccine deployment, less than 50 countries are regularly reporting gender-disaggregated data. In this panel, we will hear from vaccination experts who discuss issues ranging from policy to practice. We will focus on the issues related to data reporting and collection, why international agencies are not mandating gender-disaggregated data, and what strategies could be used to change that.
We will also unpack some of the reasons for gender disparities in coverage. Where there is a limited supply of vaccines, the picture can differ depending on which groups were prioritized for vaccination. For example, in some countries, prioritizing health care workers meant that women were more likely to receive vaccines. Men were more likely to receive a shot in others, where the military was prioritized. Where supply is adequate, fears may explain disparity – for example, rumours of effects on fertility or breastfeeding have hampered uptake. Or, as with routine childhood vaccines, the main gender barriers could relate to the inability to get to the clinic, fear of illness after the vaccine (which would require the person to take time off), and other opportunity costs.
Join us for a thought-provoking panel discussion on gender disparities in COVID-19 vaccination coverage with LCGGH Commissioner, Adjunct Assistant Professor at Columbia University's Mailman School of Public Health, and UNU-IIGH Principal Visiting Fellow Nina Schwalbe. Panelists include:
Dr Akosua Sika Ayisi, Deputy Director for Public Health, Greater Accra Regional Health Directorate, Ghana Health Service, Ghana
Dr Phionah Atuhebwe, New Vaccines Introduction Medical Officer Africa, World Health Organization
Ms Jamille Bigio, Senior Coordinator for Gender Equality and Women's Empowerment; Acting Deputy Assistant Administrator for Gender Equality, and Director, Gender, Equality and Women's Empowerment Hub, USAID
Prof Mira Johri, Professor, Department of Health Management, University of Montreal, and Principal Scientist, University of Montreal Hospital Research Centre (CRCHUM)
Ms Sarah Goulding, 

Assistant Secretary & Principal Specialist on

Gender

Equality, Department of Foreign Affairs and Trade, Australia
Session to be moderated by Pascale Allotey, Director of UNU-IIGH. This webinar is brought to you by the Lancet Commission on Gender and Global Health, the Gender and Health Hub, and the United Nations University International Institute for Global Health.
Register here: https://go.unu.edu/XICU4
Catch the Livestream on: