DATE / TIME:

2021•03•18 20:00 - 21:30

Location:

Kuala Lumpur

Link to recording of event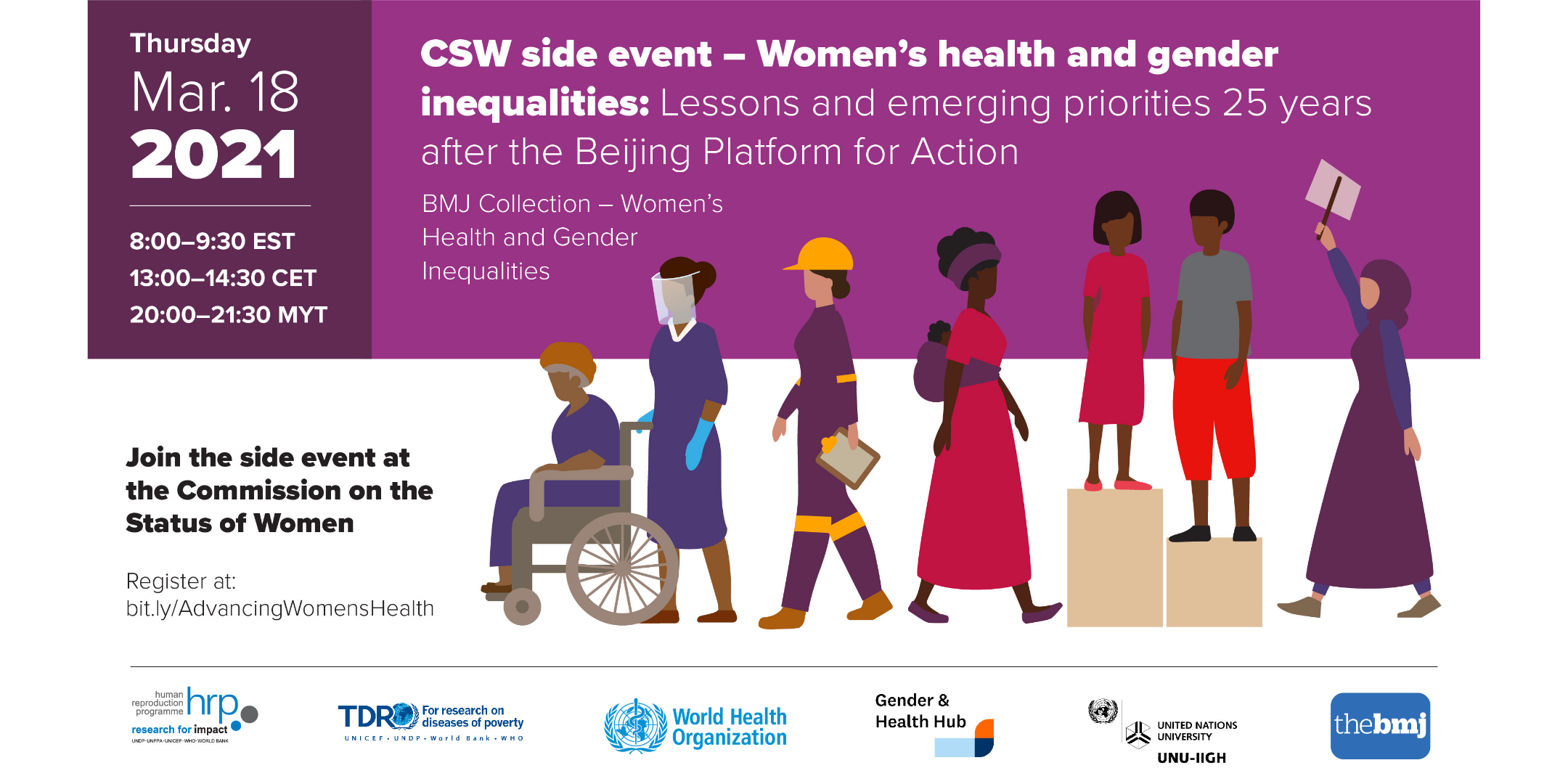 The 25 years since the visionary Beijing Declaration and Platform for Action for Women have seen dramatic changes globally. While there has been important, albeit chequered, progress on some fronts, new challenges have emerged, including the current COVID-19 pandemic. Demographic, epidemiological, technological and socio-economic transitions have evolved the nature of risks and drivers of women's health, their access to healthcare services, experience of ill health and quality of life. Climate change, migration, and humanitarian crises are precipitating new risk factors. Rapid urbanisation, greater economic participation of women and rising socio-economic inequalities coupled with advances in health and medical technologies are affecting women's health and underlying gender inequalities in different ways.
At the same time, the concerns outlined 25 years ago remain deafeningly relevant for women's and girls' health. Millions of women continue to have an unmet need for contraceptives, for example, and adolescent girls still lack sufficient information or quality services to prevent pregnancies, STIs or HIV. This unfinished agenda highlights the lack of real political commitment to women's health and gender equality, as well as the power of the conservative backlash. The COVID-19 pandemic has heightened many of women's health risks, in particular for women healthcare providers, survivors of violence, and women with unintended pregnancies. It has also exacerbated the burden of formal and informal care placed on women and girls.
About the session
This session will draw on evidence and lessons on advancing women's health since Beijing to rethink how to better meet their needs, now and in a post-COVID-19 world. Based on a series of papers commissioned by the British Medical Journal, as part of a joint collection with the United Nations University and the World Health Organization, panelists will reflect on progress, emerging opportunities, risks, and a forward-looking agenda for women and health towards 2030 and beyond.
Chairs:
• Dr Avni Amin, WHO, Switzerland – Welcome and Chair
• Dr Michelle Remme, UNU-IIGH, Malaysia – Introduction to the collection
When: Thursday, 18th March
Time: 8:00 – 9:30pm MYT (8:00-9:30am US EDT)
Registration: Click Here
Important: Webinar connection details will be provided upon registration.
This webinar will be available in English, French and Spanish.