DATE / TIME:

2021•12•08 18:30 - 19:30

Location:

Kuala Lumpur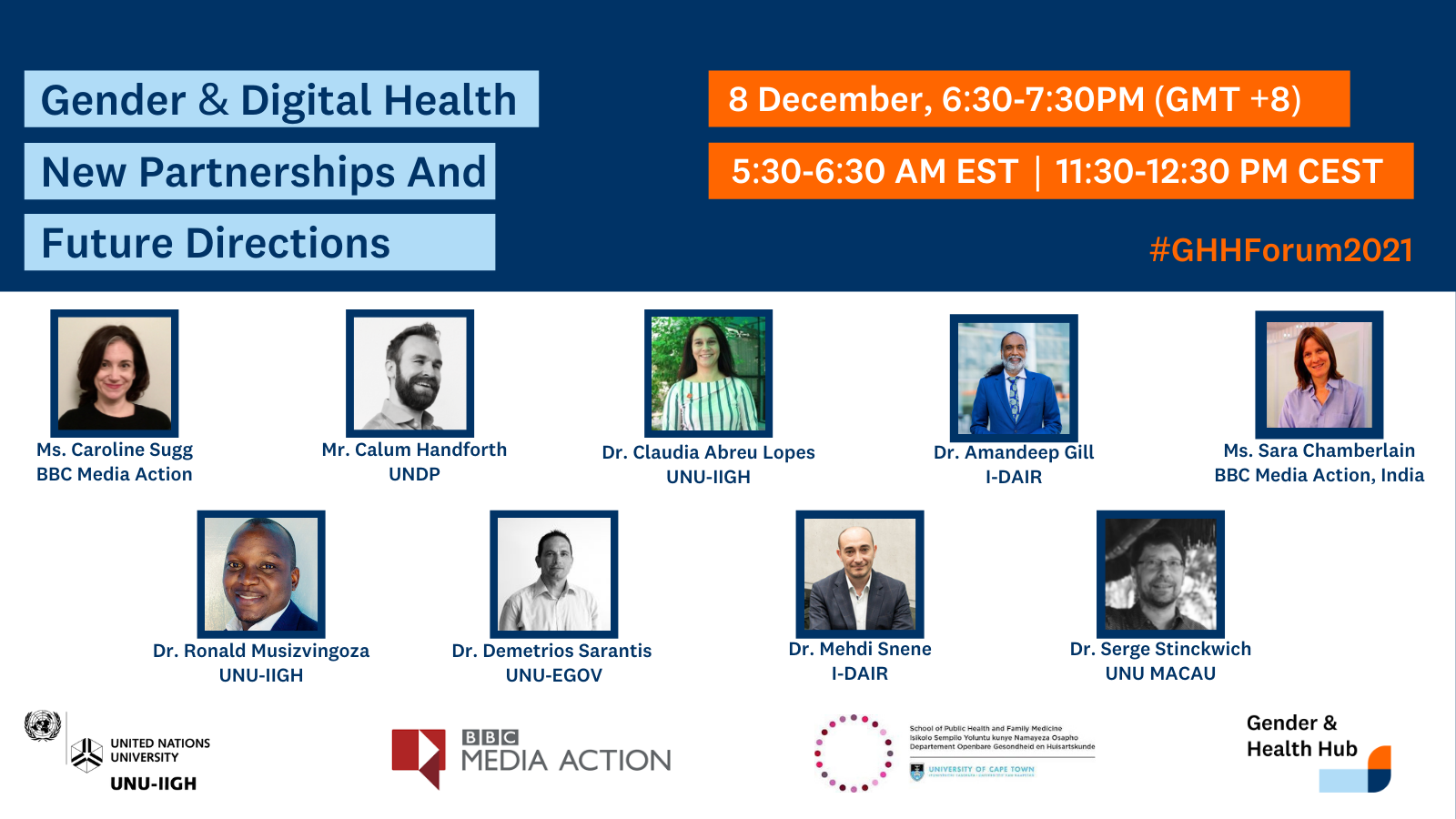 As part of the UNU Gender and Health Hub Annual Forum, we are convening the Digital Health webinar series finale for 2021. The  Gender and Digital Health Webinar Series  is a platform to foster new partnerships and co-create knowledge on the gendered dimensions of digital technologies for health, with a focus on the translation of evidence to policy and practice-based learning in low- and middle-income countries. Co-organised by a consortium between UNU IIGH, The University of Cape Town, and BBC Media Action, the series featured 40 speakers on 10 topics and was attended by about 2500 participants in 2021. This session celebrates the series, launches the  Gender and  Digital  Health  Policy  Brief  Series, and looks ahead at new partnerships and research directions in 2022.
Speaker(s):
Moderator:
Dr Ronald Musizvingoza
Postdoctoral fellow
United Nations University's International Institute for Global Health (UNU-IIGH)
Presenter:
Dr Claudia Abreu Lopes
Research Fellow
United Nations University's International Institute for Global Health (UNU-IIGH)
Speaker:
Dr Amandeep Gill
Project Director/CEO, I-DAIR
Ms Caroline Sugg
Director of Strategy and Partnerships, BBC Media Action
Mr Calum Handforth
Advisor, Smart Cities and Digitalisation, Global Centre for Technology, Innovation
and Sustainable Development, UNDP
Panellist:
Dr Mehdi Snene
Research & Development Director, I-DAIR
Dr Demetrios Sarantis
Senior Academic Fellow, UNU-EGOV
Dr Serge Stinckwich
Head of Research
United Nations University Institute Macau
Discussant:
Sara Chamberlain
Director of Digital, BBC Media Action, India
When: Wednesday, 8 December 2021
Time: 6.30 – 7.30 pm (GMT +8)
Registration: https://go.unu.edu/QjCxS
Registration is mandatory. The connection details will be sent to you via email upon registering.
For real-time updates on our programmes, please connect with us on our Twitter, Facebook, LinkedIn or Instagram account. If you have any questions or suggestions, reach out to us at iigh-info@unu.edu.