DATE / TIME:

2021•08•04 23:00 - 23:30

Location:

Kuala Lumpur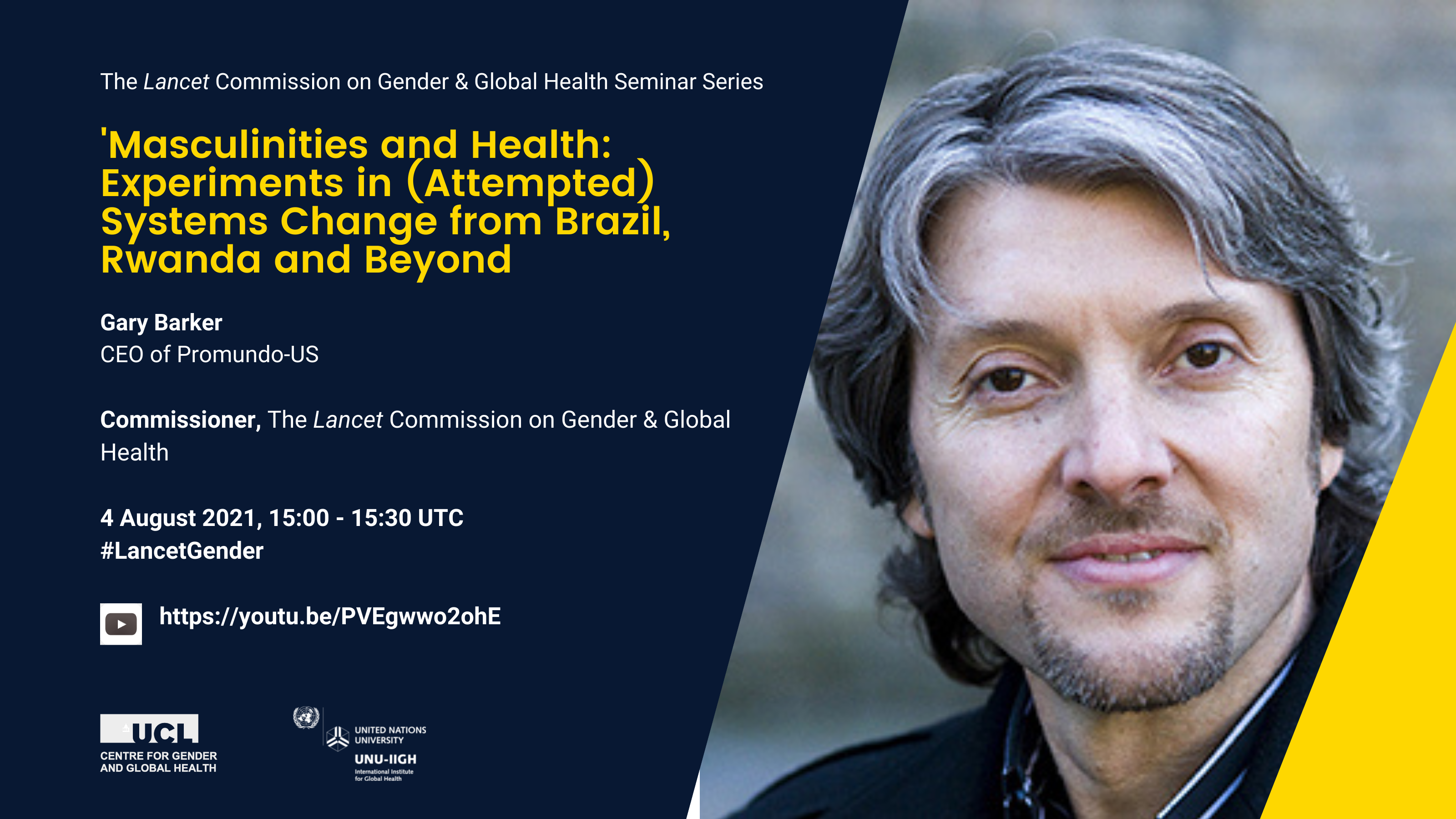 The recently established Lancet Commission on Gender and Global Health is delighted to announce a new fortnightly seminar series open to all. The Series accompanies the development of the Commission, inviting Commissioners and Co-Chairs to discuss a key topic, question, or challenge that the Commission hopes to tackle. The series aims to involve a range of stakeholders and voices in its work and promote discussion and debate on gender and health.
In the twelfth event of the series, we will hear from Lancet Commissioner Gary Barker, CEO of Promundo-US. He will present reflections and challenges from working with public health systems in Brazil, Rwanda and globally to include men's health and a masculinities lens within existing public health systems. Specifically, the session will present impact evaluation results from scaling up work to engage men in maternal and child health in Rwanda, and from Brazil's National Men's Health Program, as well as efforts to analyze the cost of inaction on masculinities and health.
Speaker
Commissioner Gary Barker, Cornell, CEO of Promundo, United States of America
When: Wednesday 4 August
Time: 16:00 – 16:30 BST / 15:00 – 15:30 UTC / 23:00 – 23:30 MYT
Registration: Click Here
The event is open to all and will also be live-streamed on our dedicated YouTube channel. Pre-registration is encouraged.
About the Lancet Commission on Gender and Global Health
In August 2020, a new Lancet Commission on Gender and Global Health was launched. The Commission, with three co-chairs and 25 commissions, has been set up with the explicit and uncompromising aim to move beyond the evidence to catalyse action on gender and global health. The Commission is being co-chaired by UCL Centre for Gender and Global Health Director, Sarah Hawkes; Director of the United Nations University International Institute for Global Health, Pascale Allotey; and Chair of the Kofi Annan Foundation and former Secretary-General of the International Federation of Red Cross and Red Crescent Societies, Elhadj As Sy.
Find out more about The Lancet Commission on Gender and Global Health here. Further information on the Commissioners and Co-Chairs can be found here.