DATE / TIME:

2022•05•25 20:00 - 21:00

Location:

Online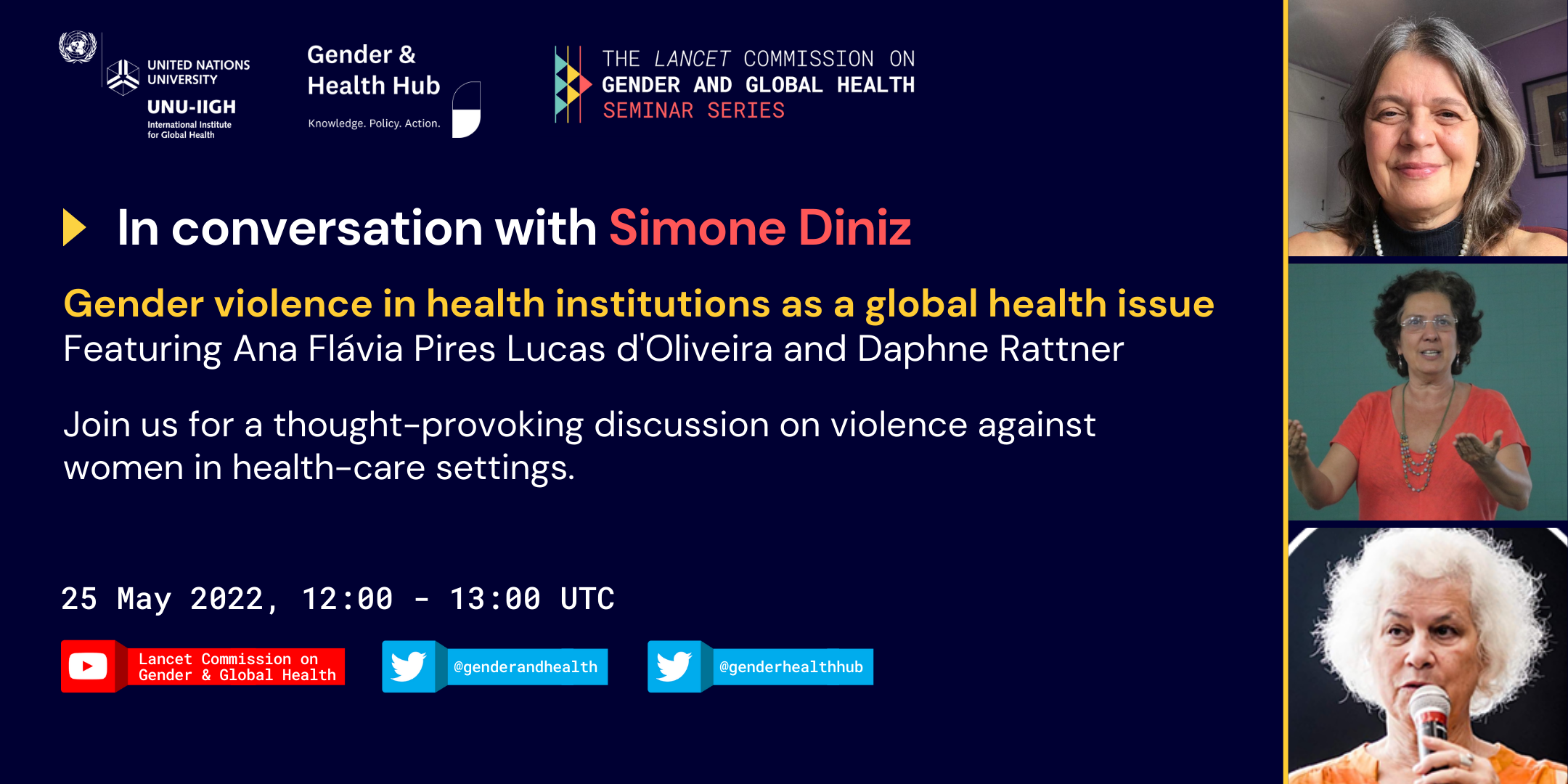 The Lancet Commission on Gender and Global Health in partnership with the UNU Gender and Health Hub co-present Gender violence in health institutions as a global health issue.
In 2002, Commissioner Simone Diniz co-wrote a paper titled Violence against women in health-care institutions: An emerging problem with Ana Flávia Pires Lucas d'Oliveira and Lilia Blima Schraiber. Twenty years later, Diniz and d'Oliveira revisit this topic with colleage Daphne Rattner to discuss the increased prevalence of violence against women in health-care settings, primarily those related to reproductive health.
The globalisation of maternal care has led to increased access to essential resources, contributing to the reduction of avoidable deaths and suffering. However, it has also led to an increase in unnecessary, even potentially harmful, interventions and disregarded women's experiences. In this seminar, we explore how naming violence against women in health institutions (and many related terms) as a global health issue reignites the debate in fields of health and gender violence to induce change, in both the global South and North. Through concrete examples of minor and major changes, we highlight the intersectionality of this violence, the role of social movements in creating new demands and health indicators, and the responsibilities of governments and educational institutions.
This webinar presents an opportunity for those working in clinical and healthcare settings to both look back at the roots of this crucial issue and look ahead to solutions. We will hear reflections from two of the original co-authors, learn more about what can be done to combat this critical challenge, and finally heed a warning that was first issued twenty years ago.
Register here: https://go.unu.edu/IDInx
Or catch the livestream on:
For more information on the Lancet Commission on Gender and Global Health, visit https://genderandhealthcommission.org/
For more information on the Gender and Health Hub, visit Home – Gender & Health Hub (genderhealthhub.org)