DATE / TIME:

2020•09•03 19:00 - 20:15

Location:

Kuala Lumpur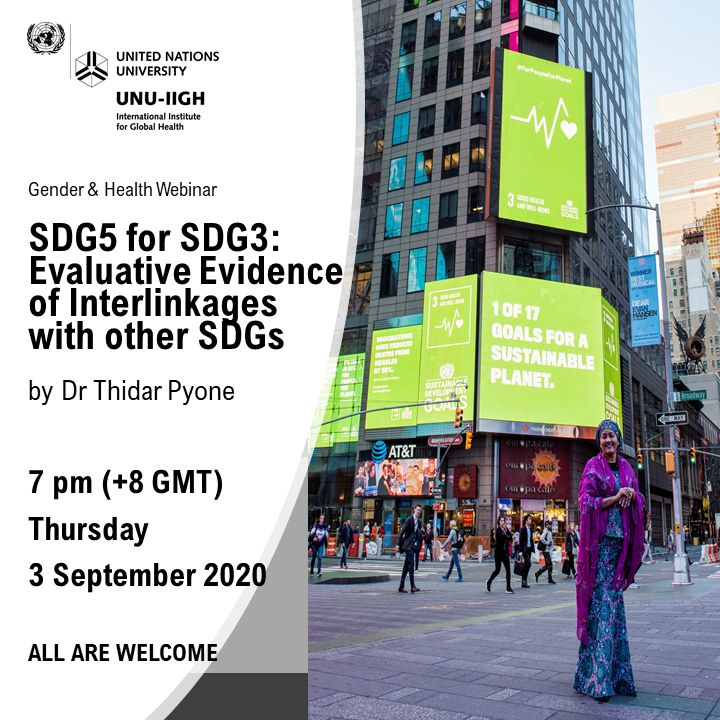 This seminar presents the objectives, methodology and preliminary findings of a collaborative project between the UN Women Independent Evaluation Service and UNU-IIGH that explores the link between SDG5 (Achieve Gender Equality and Empower Women and Girls) and SDG 3 (Ensure healthy lives and promote well-being for all at all ages) as part of a system of interconnected SDGs. In particular, this project departs from the existing evidence of the linkages between gender equality and health to answer the questions of 'how?' and in 'which contexts?'.
The main objectives are to:
(i) consolidate the evidence from UN evaluations, selected flagship reports and academic literature on the relationship between SDG5 and SDG3 as they interlink with other SDGs;
(ii) to generate additional evidence, based on secondary data analysis on the mechanisms whereby gender equality impacts health and well-being (and vice versa), directly or indirectly through other gender-related goals.
This project will contribute to improving the method and the evidence base for monitoring and evaluation of the interlinkages of SDGs.
Introduction by: Ms Shravanti Reddy, Evaluation Specialist at UN Women Independent Evaluation Office.
Speaker: Dr Thidar Pyone

Dr Thidar Pyone is the lead consultant for the UNU-IIGH and UN Women project Gender Equality for Health and Well-being: Evaluative Evidence of Interlinkages with other SDGs. She is also the Country Lead with the Public Health England (PHE) on a bi-lateral, International Health Regulations (IHR-2005) strengthening project in Myanmar. Previously, Dr Pyone worked as a clinical lecturer with the Liverpool School of Tropical Medicine (LSTM) in the UK for seven years. At LSTM, Dr Pyone has built a portfolio of public health evaluations, starting with a polyphasic evaluation of a multi-donor pooled fund  called "Health Transition Fund" in Zimbabwe. Before that, she worked as a health project adviser with Terre des hommes Foundation (https://www.tdh.ch/en) in the north-eastern region of Sri Lanka. She is a medical doctor by background with double Master of Public Health from the University of Sheffield, UK and the University of Copenhagen, Denmark (under Erasmus Mundus scholarship). She holds a PhD in health systems from the University of Liverpool, UK and her PhD research assessed governance of the Kenyan health system.