DATE / TIME:

2021•10•28 20:00 - 20:00

Location:

Kuala Lumpur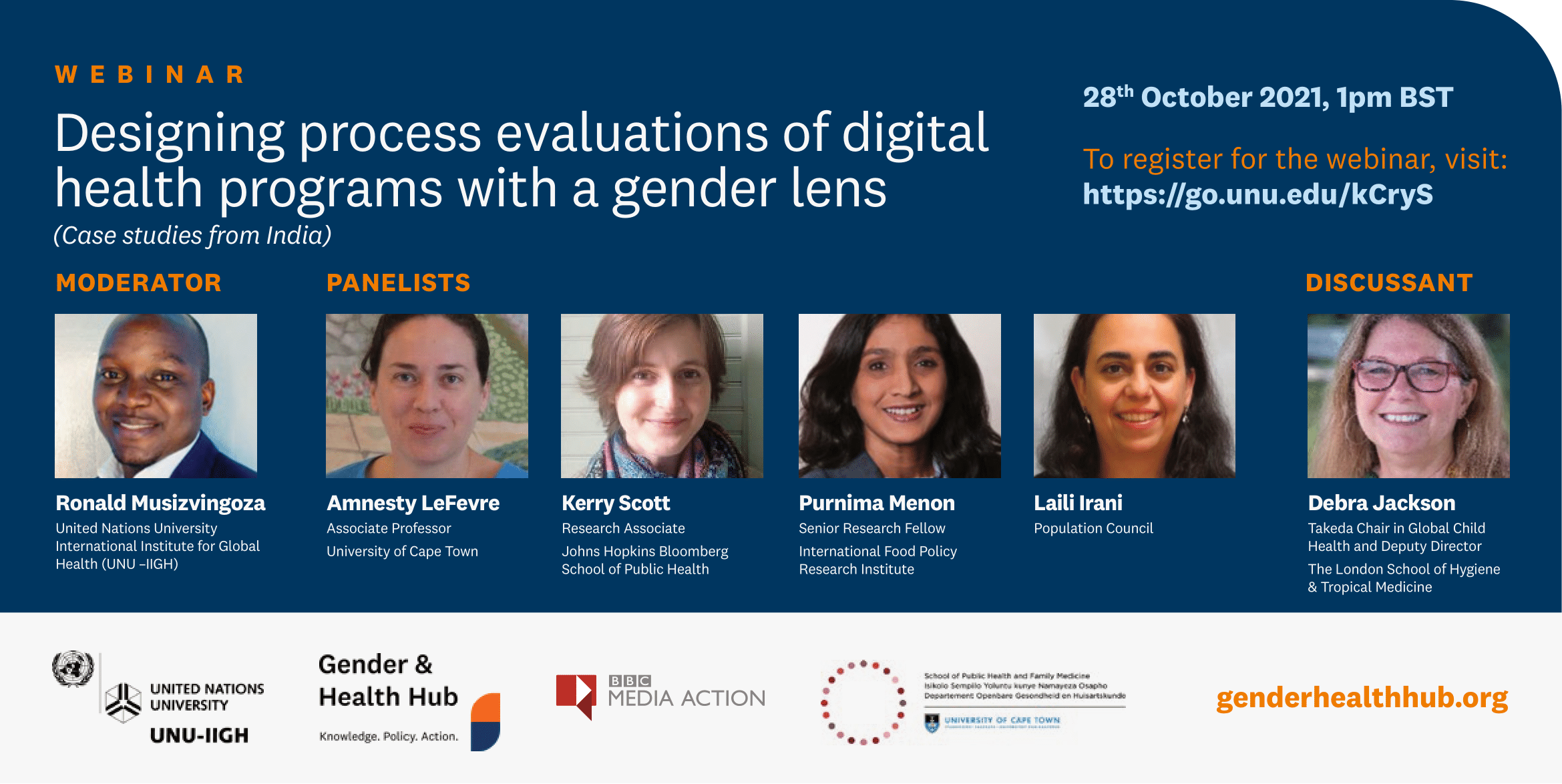 The Gender and Digital Health Webinar Series is a platform to foster new partnerships and co-create knowledge on the gendered dimensions of digital technologies for health, with a focus on the translation of evidence to policy and practice-based learning in low and middle-income countries. The series is organised by a consortium between UNU IIGH, The University of Cape Town and BBC Media Action.
Process Evaluation aims to determine whether program activities have been implemented as intended and resulted in certain outputs. This webinar will provide an overview of what process evaluations are, and review learnings from case studies in India.
Process evaluations of three case studies that feature digital health solutions in use by or targeting women will be featured:
(1) Kilkari – a direct to beneficiary mobile health information program which has scaled across 13 states in India and reached over 10 million women and their families;
(2) ICDS-CAS – a frontline health worker data capture and decision support application intended to improve infant and young child feeding services in India
(3) Mobile Vaani – a mobile phone intervention provided to Self-help Groups in Bihar, India
The divergent approaches to process evaluations of these varied programs will provide key insights into the design, implementation, and analysis of process evaluations.
Panellists will additionally reflect on key learnings and recommendations for those considering process evaluations of digital health solutions with a gender lens.
Moderator
Ronald Musizvingoza, United Nations University International Institute for Global Health (UNU –IIGH)
Introductory Remarks
Ronald Musizvingoza & Amnesty LeFevre
Panellists
Amnesty LeFevre, Associate Professor, University of Cape Town
Kerry Scott, Research Associate, Johns Hopkins Bloomberg School of Public Health
Purnima Menon, Senior Research Fellow, International Food Policy Research Institute
Laili Irani, Population Council
Discussant
Debra Jackson, Takeda Chair in Global Child Health and Deputy Director, The London School of Hygiene & Tropical Medicine
IMPORTANT: Registration via Eventbrite is MANDATORY. Zoom connection details will be sent via email upon registration.
Event Details
When: Thursday, 28 October 2021
Time: 20:00 – 21:30pm (MYT) / 8:00 – 9:30am (EDT)
Registration: https://go.unu.edu/KY8ku