DATE / TIME:

2022•01•11

Location:

Macao
Date: January 11, 2022
Speaker: Prof. Dr. Petra Ahrweiler
Time: 16:00 UTC+8 / 8:00 UTC via Zoom Time zone converter
Register here: https://unu-edu.zoom.us/meeting/register/tJUtd-2pqTosEtdCcYmOsOB2JiDw8PiICn4M
UNU-IIGH, UNU-Macau, and UNU-EGOV collaboratively present "Conversation Series: Artificial Intelligence for Social Assessment"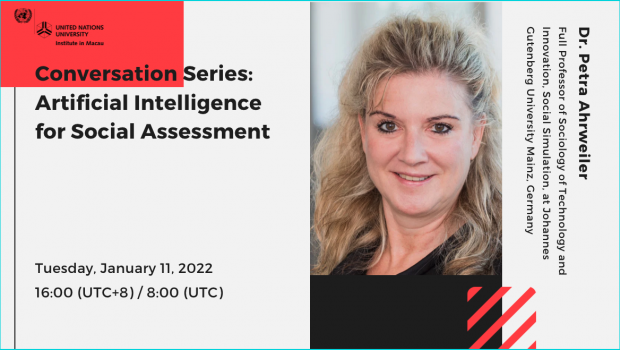 In many countries, public administrations increasingly use Artificial Intelligence (AI) algorithms to decide on public service provisions among their citizens. Citizen profiles are assessed for their worthiness to receive public services, scoring using value criteria to distinguish between legal /fraudulent recipients, deserving/non-deserving, or needy/non-needy. Although types and degrees of AI implementation vary between countries, delegating decisions about the distribution of scarce resources based on value judgements to machines leads everywhere to important questions of ethics, justice, quality, responsibility, accountability, and transparency of welfare decisions. However, perceptions, attitudes and acceptance of AI use in service provision vary between countries due to different norms and values in-use, different technology status, economic models, civil society sentiments, and legislative, executive and judicial characteristics.
Are existing cultural value patterns driving the use of AI, or is AI driving cultural change? What are the impacts of AI for future societies and their value systems? Which policies, behavioural changes and institutional developments are necessary and appropriate to prevent or support certain scenarios? The appraisal of potential social futures is a huge research challenge.
This talk presents an approach that uses cultural comparison dimensions to build context-specific Agent-Based Models simulations for policy advice and testing policy interventions. Simulations work with data at the country level using intelligent agents to model future societies and experiment with AI-in-use for projecting societal techno-futures.