DATE / TIME:

2022•03•10 21:00 - 22:00

Location:

Kuala Lumpur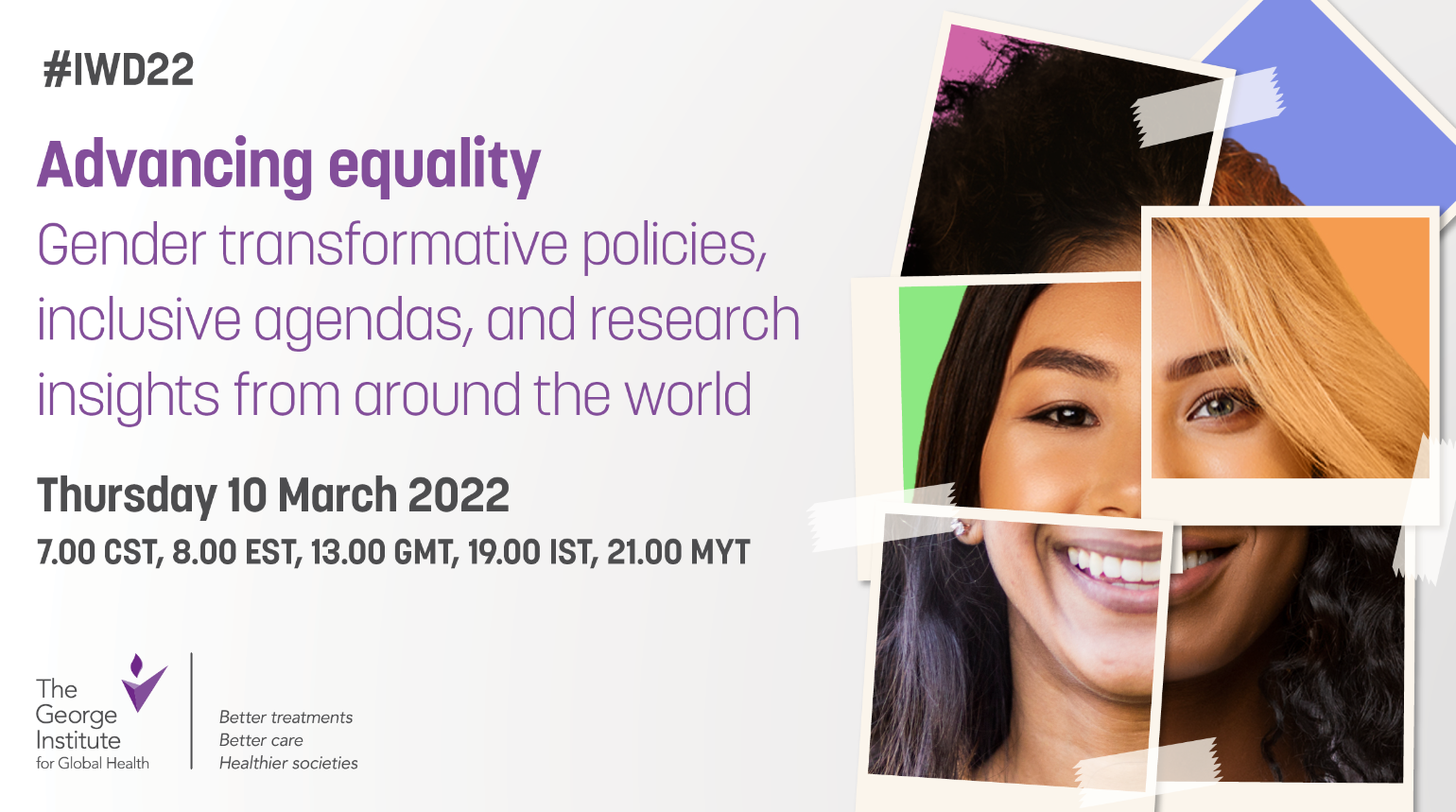 The George Institute for Global Health UK invites you to join them for this digital event to mark International Women's Day 2022 and its focus of #BreakTheBias, which is closely aligned with the overarching aim of the Institute's Global Women's Health Program.
Through research, policy and advocacy, this program works to 'break the bias' that means women are often invisible in health and medical research; female-specific health issues are deprioritised, and women's health may be viewed primarily through a maternal lens.
The Institute works alongside research collaborators and peers, funders, advocacy partners and networks to realise this programme. In celebration of this, and to reflect the varied and unique contexts in which the Institute works, we have invited a range of speakers to explore how confronting bias drives them, and how they combat it through their work. Presentations will focus on:
Addressing the impact of NCDs on African women through rights-based approaches;
Integrating sex and gender in medical research to improve health equity;
Addressing prejudice and developing crucial support for the mental health of trans people in India;
Funding research to better understand the health and economic burden of NCDs for women in Mexico,
and will be followed by a panel discussion and Q&A.
Speakers include:
Johanna Riha (Research Fellow, International Institute for Global Health, United Nations University)
Kate Womersley (Academic Doctor, National Health Service)
Sandhya Kanaka Yatirajula (Emerging Thought Leader and Senior Researcher, The George Institute for Global Health India)
and
Cristóbal Thompson (Executive Director, AMIIF: The Mexican Association of Pharmaceutical Research Industries).
The event will be chaired by Diana Vaca McGhie (Director, Global Advocacy, American Heart Association).
Register to join us and do get involved with the supporting digital conversation on Twitter with #BreakTheBias #IWD22 @GeorgeInstitute @GeorgeInstIN @GeorgeInstUK.
Please note that this webinar will be recorded. By registering to attend this event, you agree that The George Institute may send you the information in the future about their work. You can opt-out at any time.
Originally published at georgeinstitute.org.uk.