DATE / TIME:

2021•03•26 20:30 - 23:00

Location:

Kuala Lumpur

Link to recording of event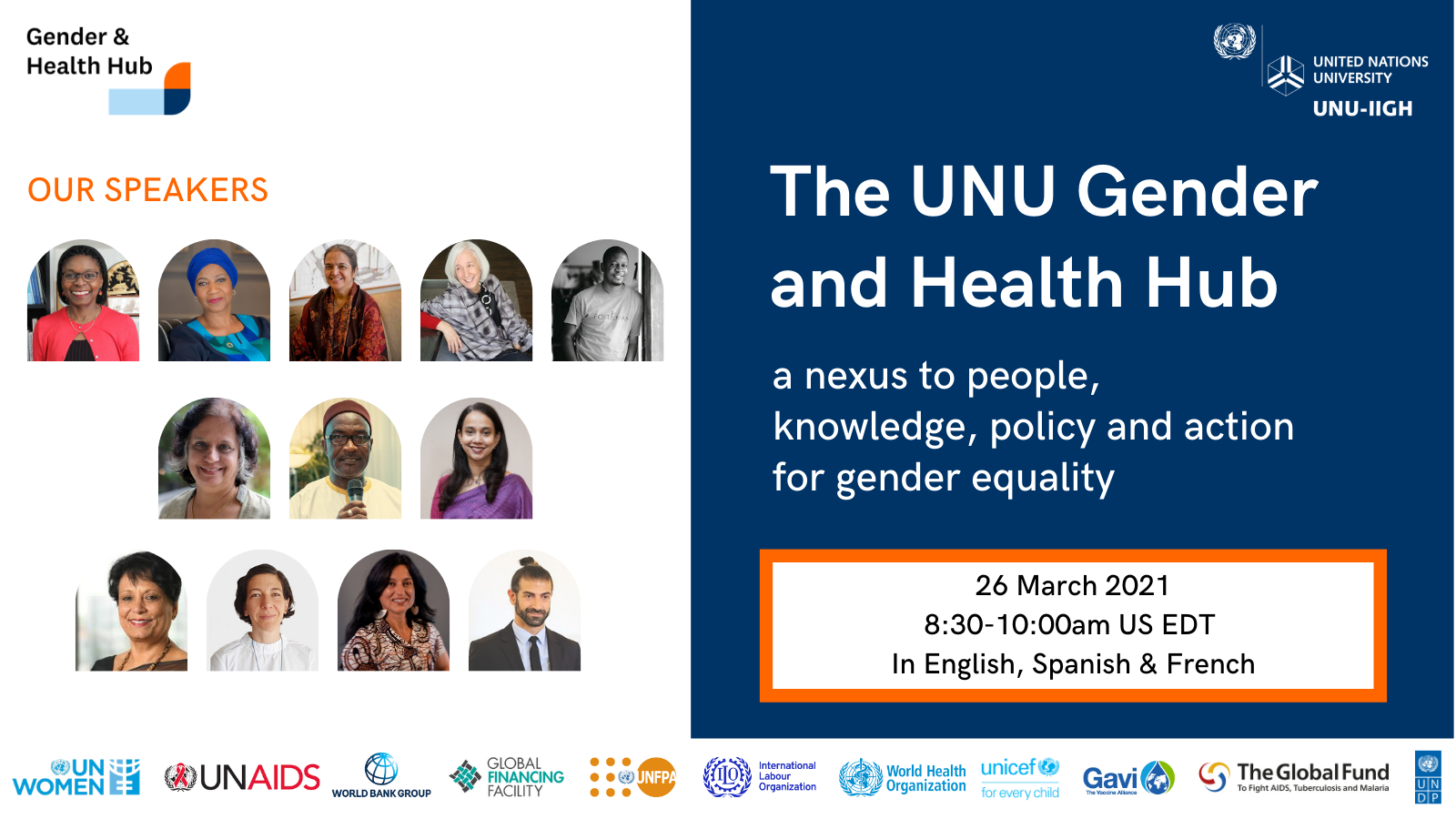 We are excited to invite you to the launch of the Gender & Health Hub (GHH) at the Sixty-fifth session of the Commission on the Status of Women (UN CSW 65)!
This session launches the Gender & Health Hub and brings together policymakers, researchers, and thought leaders to look back at the evidence and articulate the way forward by identifying transferable lessons, technical solutions and political strategies for the effective integration of gender in global health.
Coordinated by the United Nations University International Institute for Global Health (UNU-IIGH), GHH seeks to bridge the gaps between people, knowledge, policy and action to increase uptake and investment in effective strategies to address gender inequalities in health systems and health outcomes. GHH will support priority areas for gender-transformative interventions to contribute to the Global Action Plan for Healthy Lives and Well-Being (GAP).
Ultimately, our focus is on what works to make a difference. The achievement of gender equality is not possible without societal transformation.
We recognise that we are more powerful together. Join us!
Event Details
When: Friday 26th March
Agenda: Click here to see our list of speakers and the schedule
Time: 8:30 – 11:00pm MYT (8:30-10:00am US EDT)
Registration: Click Here (session will be translated into French and Spanish)
The event is open to all, and registration by Eventbrite is mandatory. A link will be sent to registered participants close to the time, and just before the start of the event.
More on the Gender & Health Hub
The diagnosis is clear: gender inequality continues to undermine health outcomes, and health systems often fail to do their part to promote intersectional gender equity. The COVID-19 pandemic has further exacerbated multiple and intersecting vulnerabilities. Many communities face heightened risks, in particular—healthcare providers, survivors of violence, and women with unplanned pregnancies. Further, the gender-differentiated economic impacts of COVID-19 are well documented. Women comprise the majority of the world's informal workers who now face increased precarity as well as a greater burden of formal and informal care work.
As the ongoing pandemic risks eroding the fragile gender equality gains accrued over decades, there is an urgent need to draw on the evidence base that has been built through practice, success and failure over time. The global community is better equipped than ever to use the political strategies and technical solutions that have worked in the past and translate that evidence and practice-based learning into collective action.
Coordinated by the United Nations University International Institute for Global Health (UNU-IIGH), the Gender & Health Hub aims to bridge the gap between people, knowledge, policy and action.