DATE / TIME:

2021•03•25 15:30 - 16:30

Location:

Kuala Lumpur

Link to recording of event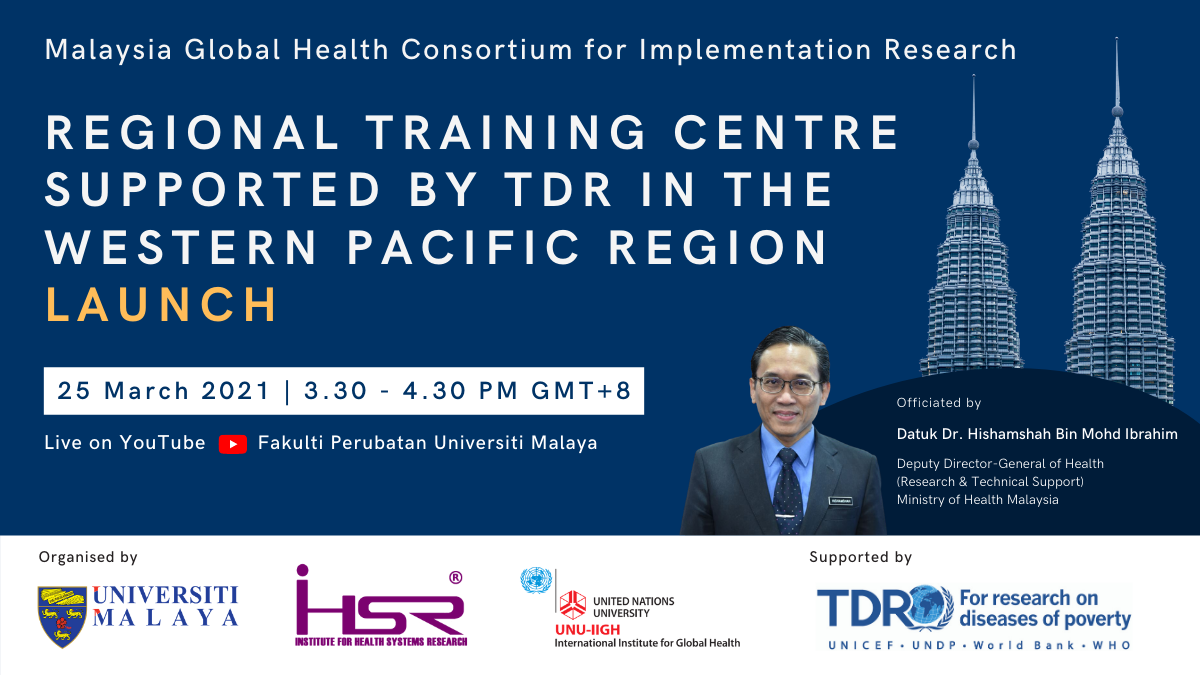 Please join us for the launch of our Regional Training Centre for the Western Pacific. The Regional Training Centre is established by the Malaysian Global Health Consortium (MGHC), a consortium of partners based in Malaysia, with support from the Special Programme for Research and Training in Tropical Diseases (WHO-TDR).
The Consortium is comprised of the Department of Social and Preventive Medicine at the Faculty of Medicine of the University of Malaya (UM), the Malaysian Ministry of Health's Institute for Health Systems Research (IHSR), and the United Nations University-International Institute for Global Health (UNU-IIGH).
The Regional Training Centre aims to accelerate implementation research capacity building throughout the Western Pacific Region and to facilitate engagement between academics, policymakers, and healthcare practitioners through implementation research training and activities.
This launch event will be officiated by our Guest of Honor, YBhg. Datuk Dr Hishamshah Bin Mohd Ibrahim, Deputy Director-General of Health (Research and Technical Support), Ministry of Health, Malaysia. You will be hearing from the Consortium partners about the mission, collaborations, and work carried out by the Regional Training Centre.
Speaker
YBhg. Datuk Dr Hishamshah Bin Mohd Ibrahim, Deputy Director-General of Health (Research and Technical Support), Ministry of Health, Malaysia
When: Thursday 25th March
Time: 3:30 – 4:30pm MYT
How to Watch: By invitation or live-stream from Fakulti Perubatan Universiti Malaya YouTube channel (click on the link at the time of the event)