DATE / TIME:

2013•05•27

Location:

Kuala Lumpur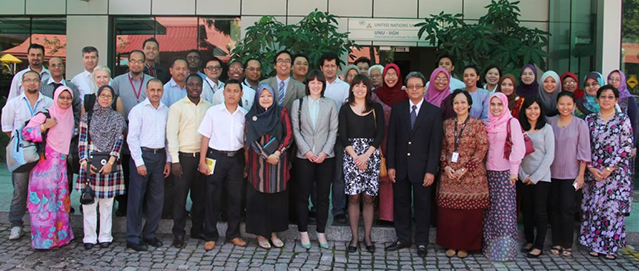 On 27 May 2013, UNU-IIGH hosted a Global Challenges Canada event which was attended by about 40 people from various public and private institutions.
It commenced with a brief welcome note from the Executive Associate to the Director, Kim Mahmud who later introduced UNU-IIGH Research Fellow, Prof. Dr. Jamal Hisham Hashim. Prof. Jamal provided an overview of UNU-IIGH background, thematic areas and their related activities. He later introduced Dr. Karlee Silver, Programme Officer and Ms. Kristen Yee, Associate Programme Officer of Grand Challenges Canada.
Both Dr. Karlee and Ms. Kristen presented an overview of the works of Grand Challenges Canada. Dr. Karlee also illustrated the relationship between Grand Challenges Canada with Malaysia and other ASEAN countries, including developing countries in Africa such as Nigeria, Kenya, and Zimbabwe.
Dr. Karlee encouraged UNU-IIGH and the attendees to see Grand Challenges Canada as a partner and reiterated on the focus of the meeting, which is to innovate bold ideas which will have a great impact on Global Health.
An active discussion transpired, questions were posted to Dr. Karlee and Ms. Kristen and they gave vivid answers to all the questions and encouraged anyone interested to visit Grand Challenges Canada website for more information.