DATE / TIME:

2012•05•21 - 2012•05•23

Location:

Malaysia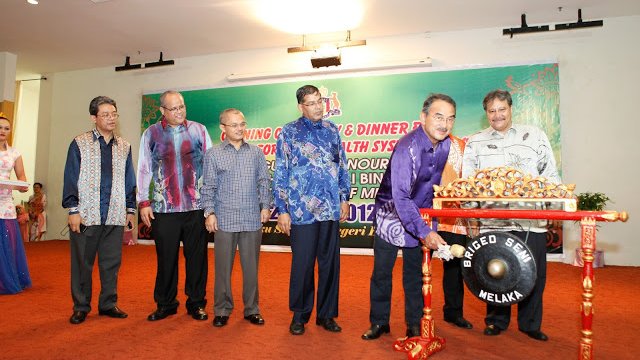 The theme of the forum was Inspiring Sustainable Management of Non Communicable Diseases: Challenges and Solutions for Health Systems.
It was held on 21-23 May 2012 at the World Youth Hotel, Ayer Keroh, and Melaka, Malaysia.
UNU IIGH together with University Kebangsaan Malaysia hosted the forum. This annual event takes place in rotation among co-hosts; Naresuan University (NU) of Thailand and Universitas Gadja Mada (UGM) of Indonesia.
The main objective of the forum is to provide a platform for PhD student to communicate their knowledge gained during PhD works internationally and to share their experiences with new PhD enrollees. Updates on knowledge were also made available from invited international speakers in keynote and plenary sessions.
The organisation of the 6th Postgraduate Forum (PGF) was enhanced with the sponsorship and collaboration provided by the Offices of the Chief Minister of Melaka State & Melaka State Government, Melaka International College of Science and Technology, World Assembly for Youth and the World Youth Foundation.
The co-hosts provided sponsorship for the Opening Dinner as well as social programmes for the participants.
This year's 6th PGF had a total attendance of 130 registered participants and 100 abstracts submitted. Apart from postgraduates from the 4 hosting universities, there were participants from Iran, India and Africa.
The highlights of this year's scientific programme included the inaugural Scientific Merit Research Award to promote the writing of good quality scientific abstracts among postgraduate candidates. The award also allows evaluation of the ability of the postgraduates to effectively communicate their research findings to a wider audience through their oral presentations. The top three oral presenters received cash awards of USD 300, USD 200 and USD 100 respectively.
Prizes were also awarded for best poster presentation category (3 prizes of USD 100 each). The top 40 abstracts selected will be published in a supplemental issue of the BMC Public Health Journal, which has an impact factor of 2.36. The remaining abstracts will be selected for publication in a supplemental issue of the Malaysian Public Health Journal, a SCOPUS indexed journal. This is an added incentive for postgraduates to gain recognition for their works in progress and to share their ideas to a wider audience.
The winners of this year's awards are as listed below:
| Place | Title of Oral Presentation | Author | Institution |
| --- | --- | --- | --- |
| 1st | Patient-Reported Outcomes After One Year Of Periodontal Treatment At Public Specialist Dental Clinics in Peninsular Malaysia | Tuti Ningseh Mohd Dom | UNU-IIGH |
| 2nd | Home-Based Family-Assisted Therapy For People With Stroke: Findings From A Randomised Controlled Trial | Nor Azlin Mohd Nordin | UNU-IIGH |
| 3rd | Role Of Micro RNAs In The Pathophysiology Of Sporadic Colorectal Cancer | Yong Fung Lin | University of Malaya |
| Title of Abstract | Author | Institution |
| --- | --- | --- |
| Assessment of a Decade of Purchaser-Provider Split and Purchasing Healthcare of Thai UCS | Samrit Srithamrongsawat | Naresuan University |
| Appropriate High Cost Payment for Social Security System | Orawan Prasisiriphon | Naresuan University |
| Human impact and financial loss of floods in South East Asia, from 2007-2011 | Kouadio Isidore Koffi | UNU-IIGH |
The Interactive Forum session on 'Surviving graduate education" also captured the interest of the participants. The sharing of experiences and obstacles of peer postgraduates served as an inspiration for others. The social programme highlighted visits to places of interest in the historical state of Melaka.
The participants experienced the Melaka Riverside Cruise by night, taken on an elevated platform ride on the Taming Sari Tower and visited the Melaka Museum Board for a guided tour. The Melaka State Government and its affiliated bodies sponsored the visits for all participants of the 6th PGF.
The 6th PGF officially ended on the 23 May 2012 with a sincere promise to convene again next year at Naresuan University, Phitsanulok, Thailand for the 7th PGF on 24-25 June 2013.