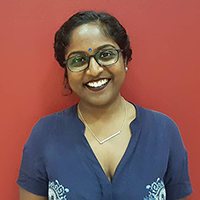 Vithiya has a degree in International Relations and started off as a Caseworker at the International Rescue Committee (IRC) where she worked closely with refugees who were undergoing health and security issues. The main goal was to work towards their resettlement to the US, with their wellbeing and safety as the priority.
After completing a Masters in Social Work, Vithiya joined the Women's Centre for Change (WCC) as a Social Worker working with survivors and perpetrators of gender-based violence. She conducted sensitisation training for frontline workers and educational programmes for secondary and tertiary students. She then moved to the Global Peace Foundation (GPF) as a Programme Coordinator. During her time at GPF, Vithiya planned and executed WASH and solar power projects for indigenous populations in Malaysia. She successfully managed projects for various communities in Perak, Pahang and Sarawak.
Since joining UNU-IIGH in 2018, Vithiya has been the focal point for local and international convening; she also manages the institute's internship programme. She is passionate about gender and rights issues within marginalised communities and seeing sustainable change on the ground.