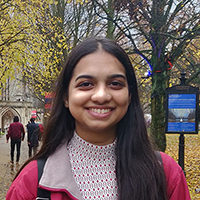 Radhika is a Communications Assistant with UNU-IIGH. She graduated with a Master of Arts degree in Media and Communications from Goldsmiths, University of London, UK and a BA in Journalism, Psychology and English (Triple Major) from Christ University, India.
Soon after graduating, she joined UNU-IIGH as a Pillar 1 intern, assisting the Communications Focal Point and the pillar members with the institute's internal communications matters, to maintain and enhance its awareness with current and potential audiences and stakeholders.
Having transitioned into her current role, Radhika assists with the implementation of the Strategic Development plan for Communications, looking to bridge the key messages of the institute and establish outreach projects to maintain the institute's social presence. Besides this, she assists with copy-editing blog posts and other written material for publishing and also reviews and edits videos for UNU-IIGH's YouTube channel and its social media pages.