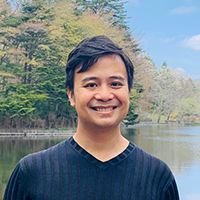 Basilio Valdehuesa is the Programme Manager, Knowledge Management & Communications at UNU-IIGH. He is in charge of the team's communications and knowledge management workflows, improving efficiency, data sharing and evidence translation projects. Previously, Basilio worked at UNU's Office of the Rector, managing the project management system (Pelikan), publications repository (UNU Collections), a Junior Fellowship Programme, and other data management initiatives. Basilio joined the organization in 2014 as Operations Manager at UNU's Centre for Policy Research, coordinating the think tank's finance, HR and procurement processes.
Previously, Basilio was Center Administrator at the Frank J. Guarini Center on Environmental and Land Use Law at New York University School of Law for 6 years, administering courses and supporting projects reforming U.S. nuclear waste law and environmental protection. In past lives, he interned at the U.S. Department of Commerce's Iraq and Afghanistan Reconstruction Task Force in Washington, D.C. and at the Inter-Parliamentary Union's Office of the Observer to the United Nations in New York.
Basilio holds a Master of Science degree in Global Affairs from New York University and a bachelors in political science from Rutgers College.