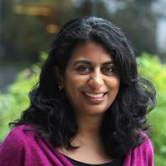 Asha George is a qualitative researcher engaged with health systems to advance health and social justice in low- and middle-income countries. With a gender and rights lens, she focuses on the frontline interface and governance of services taking into consideration community and health worker perspectives. She joined the SOPH in 2016 as the South African Research Chair in Health Systems, Complexity and Social Change and continues at the Johns Hopkins School of Public Health as an Adjunct Professor.
She has worked as an advisor to UNICEF, WHO and USAID on community-based approaches since 2007. Prior to that while based in India, she partnered with allies across community, district, state and national health systems to advance maternal health from a gender and rights perspective. Her work in public health started in 1994, when she returned to Mexico to support government ministries and the UN system to advance the Beijing and Cairo agendas for women's health and rights. She is an Indian national and a current resident of South Africa, with previous residency in Mexico and the USA.
She has degrees in International Relations, Public Health and Development Studies from Georgetown, Harvard and Sussex Universities.