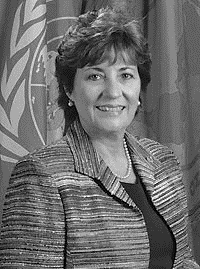 Dr Roses is the Former Assistant Director (DPM/WHO) 1995-2003 and had served two terms as the Director of the Pan-American Health Organization, PAHO, Regional office for WHO in the Americas 2003-2013. An internationally well-known physician and epidemiologist, she brings with her more than 40 years' experience of promoting public health, international technical cooperation, and the development of health programs.
She is known for her strong skills in managing multicultural teams, setting up collaborative and advocacy networks and using arts, social media, and communications for advancing health and well-being. Her leadership in bridging diverse views to prioritise health in the development agenda has led to her successful role as Chair of the GAC World economic forum leading to the High-level session of the UN General Assembly on Non-Communicable Diseases, Mental health and Aging.
Her numerous accomplishments in pushing the health agenda in the Americas and beyond are acknowledged by governments, civil society, and non-governmental organisations with high-level decorations and Doctor Honoris Causa award from 6 major universities. As a prestigious manager of an international organisation, she has adhered to a transparent and accountable results-based performance and has succeeded in incorporating equity, gender, and human rights approaches and principles in several policies and projects.
She was entered into the National Academy of Medicine (2007) and to the National Academy of Science (2018) for her work in health diplomacy in the pursuit of Health for all. After a 30-years career in WHO, she retired and went home to Argentina. Currently she sits in various Boards like the Global Fund, Fundación Mundo Sano, Gulbenkian Global Mental Health Platform, and is a member of several Advisory Boards and Experts Group.