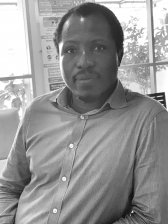 George Atiim is a health geographer and joined UNU-IIGH in August 2019 where he will contribute to building conceptual clarity and approaches in gender and health that promotes gender equality in health programming. He comes to UNU-IIGH from the International Development Research Centre (IDRC) in Canada where he was the 2018 Research Award Recipient with the Food, Environment and Health program, supporting work to build healthier food systems, and improve health through preventing non-communicable and infectious diseases.
Prior to starting his doctoral studies in 2013, George was Senior Research Assistant at the Centre for Migration Studies, University of Ghana. He was key to running the Centre's graduate programs, research as well community and policy engagements. Dr. Atiim holds a Ph.D in Geography (specialisation in health) from University of Waterloo, a Masters and BA in Geography and Resource Development, both from the University of Ghana.
As a global health researcher, George's applies qualitative tools to understand the interactions between our environment and health, broadly defined. He is interested in research and programs on (and at the intersection of) good health and wellbeing (SDG 3), gender equality (SDG 5), clean water and sanitation (SDG 6). Specifically, his scholarly contribution includes the socio-cultural dimension of emerging risk of food allergies, local food environments and drivers of unhealthy diets, women empowerment and maternal health outcomes, migration and labour, and participatory research in Sub-Saharan Africa.